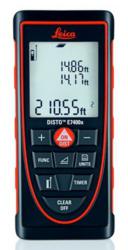 World's first laser distance meters to the ISO 16331-1 specification.
Grand Rapids, MI (PRWEB) June 14, 2012
Leica Geosystems - the inventors of the laser distance meter have release two brand new Disto Laser Distance Meter models this May. These new models bring years of experience and customer feedback into their design and functions, plus the range and accuracy are certified accurate to the ISO 16331-1 Standard. The Disto E7300 and E7400X are, like previous Distos, also backed by a 3 year warranty.
The new Disto E7300 is small and compact - but not on features. With a range of 2'' to 265ft and an accuracy better than 1/16th of an inch, it can tackle most daily measuring jobs. Included functions are area, volume, and 2 and 3 point Pythagoras measurements, as well as a stake out function. It has a 3-line illuminated display to avoid misreading in the worst of lighting. The housing and keypad are IP54 sealed against dust and water and 6ft drop tested. The housing also includes a multifunctional endpiece which helps take the more difficult measurements. Whether measuring out of corners, slots or from edges, with this end-piece you are prepared for all measuring situations. The instrument detects the end-piece automatically, which helps you avoid expensive measuring errors. All of this at an MSRP of $199.
The new Disto E7400X is IP65 sealed against dust and water - ready to handle even the most harsh work environments. The accuracy and range of the E7400x is in compliance with ISO 16331-1, which ensures that this laser distance meter performs exactly as described. This industry standard was developed by an international committee and accounts for favorable, unfavorable,and other specified conditions to guarantee repeatable measuring results. The measuring range of the new Disto E7400x is 2in to 265ft with an accuracy of +/- 1/16 of an inch. The integrated 360 degree tilt sensor is accurate to 0.2 degrees and allows functions for height tracking, area, and volume calculations. This also allows it to measure indirect heights and measure over or past obstructions. With all of these features, the E7400X has replaced both the Disto D330 and D210XT models. MSRP of the E7400X is $279.
Included with each Disto purchased from AppraisersLaser.com, is a holster, hand loop, 2 AAA batteries, quick start guide, and manual (included on CD). If purchased at full list price, AppraisersLaser.com will include a free pair of red laser glasses, 7" pocket angle tool, and expedited shipping (typical delivery is next day). And, since Leica Geosystem only allows us to advertise MSRP, just submit a quick quote request for your price!
AppraisersLaser,com is the source for laser distance measuring meters has been selling Disto's since 2007. We are a full Leica dealer - this means we can give you the support you need before and after the sale including warranty exchanges and troubleshooting. If you have any questions about the differences between the Disto models, upgrading, or pricing, please call us toll free at 1-888-560-1744.