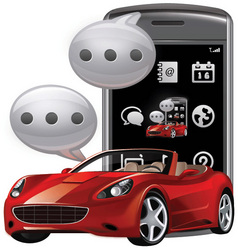 DriveSafe.ly® for business enables employees to stay connected in a more responsible way, while complying with local safety laws
Orlando, FL (PRWEB) April 28, 2010
iSpeech®, creator of DriveSafe.ly®, the award-winning, free mobile app aimed to stop distracted driving, is announcing a new enterprise offering for business users at WES 2010. DriveSafe.ly® Enterprise is an enterprise-class app that reads text messages (TXT or SMS), emails and Caller-ID aloud to drivers and allows them to automatically respond.
DriveSafe.ly® Enterprise includes exclusive value-added features, such as fully-encrypted audio, policy management, employee tracking via Web, easy device swapping and BlackBerry® Enterprise Server (BES) deployment. The mobile app provides a solution for fleets, mobile workforces, mobile sales forces and other businesses seeking to institute safe driving policies for compliance with anti-texting legislation without affecting productivity.
"DriveSafe.ly® for business enables employees to stay connected in a more responsible way, while complying with local safety laws," says iSpeech® CEO, Heath Ahrens. "It's a smart safety policy for any company with employees on the road."
Since its consumer launch 7 months ago, DriveSafe.ly® has officially read over 100,000,000 text and email messages to drivers free of charge– helping to keep their eyes on the road. To date, over 4 million people have used the app, making DriveSafe.ly® the leader in software solutions aimed to stop texting while driving.
DriveSafe.ly® was recently named Best BlackBerry® App by users on About.com's 2010 Reader's Choice Awards. iSpeech® is sponsoring and will be demonstrating DriveSafe.ly® for Enterprise at RIM's Wireless Enterprise Symposium (WES) from April 27th-29th, 2010 in Orlando, Florida.
The use of wireless devices and their accessories while driving may cause distraction. iSpeech®, Inc. does not encourage or endorse texting while driving or the unsafe use of any device while driving. Use of devices should be discontinued if they interfere with your driving concentration. Additionally, the use of wireless devices and their accessories may be prohibited or restricted in certain areas. Always obey the laws and regulations on the use of these products.
iSpeech®and DriveSafe.ly® are registered trademarks of iSpeech, Inc.; All other products or service names are the property of their respective owners. © 2010 iSpeech, Inc. All rights reserved.
About iSpeech® and DriveSafe.ly®
The unprecedented DriveSafe.ly® app, developed by iSpeech®, reads text messages and emails aloud in real-time and automatically responds without users touching their mobile phone. DriveSafe.ly® utilizes iSpeech® text to speech and speech to text software as a service (SaaS) in hopes of eliminating the danger created by the growing number of people who text while they drive. For more information or to download the app please visit http://www.DriveSafe.ly. Founded in 2007, iSpeech® is a privately held company headquartered in Newark, NJ.
Media Contact:
Vanessa Rose
iSpeech, Inc.
Cell: 908-334-0854
vrose(at)iSpeech(dot)org
# # #