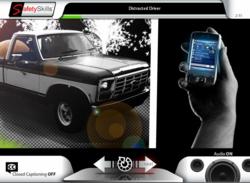 Oklahoma City (PRWEB) April 11, 2013
In conjunction with the National Safety Council's Distracted Driving Awareness Month, SafetySkills® is offering their Distracted Driving online safety training course free for the month of April. Upon completion of this learning event, the Learner will be able to identify the common causes of hazardous driver distractions and methods for minimizing or eliminating them. This course covers the risks and consequences of distracted driving, including talking on the phone, texting, and others. This course could be used as part of a company's driver safety program and goes along with "OSHA's Distracted Driver Initiative."
The National Highway Traffic Safety Administration (NHTSA) states that 20 percent of car crashes in 2009 involved reports from distracted driving. Of those killed in distracted driving related crashes, 995 involved reports of a cell phone as a distraction (18 percent of fatalities in distraction-related crashes). Drivers who use hand held devices are four times likely to get into crashes serious enough to injure themselves. Studies done by the University of Utah state that using a cell phone while driving, whether it's hand held or hands free, delay a driver's reaction as much as having a blood alcohol concentration at the legal limit of .08 percent.
All SafetySkills® courses are designed, built and maintained by us, here in the good old US of A. We are also the folks that support it. Our EHS specialists, software engineers, and digital design team are standing by to make sure your deployment is a success. You can rest assured that every component of every course is continually audited by our regulatory experts to ensure that your deployed courseware is always current with prevailing regulations and industry standards.