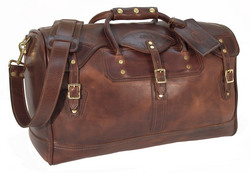 St. Paul, MN (PRWEB) May 20, 2008
J. W. Hulme Company has created a luxurious new line of distressed briefcases, handbags, luggage and outdoor sports accessories. New for 2008, these bags are each hand tooled and buffed to bring out the rich and unique leather tones of antique leather. In addition, each bag is hand embossed with the customer's initials. Production is limited for individually crafted bags. This is the eleventh collection of J.W. Hulme Company creations which includes handbags, totes, traditional and rolling luggage, as well as a full line of briefcases and matching portfolios.
The USA made American Heritage Collection is 100% full grain leather, thus continuing J. W. Hulme's tradition of using only the finest materials that will last a lifetime. In fact, the company guarantees its products for life.
American Heritage is only the latest example of innovation in bags and styling. This collection began with customer suggestions. Customers saw a 40 year old Shell Bag pictured in the catalog and wanted a bag with similar antique patina. The company receives so many good suggestions that they provide a form on their website for that purpose.
This collection has since expanded to include twelve distinct pieces of luggage including a Document Case, a Portfolio, two different handbags, a shell pouch, a duffle bag, a Gladstone bag and two gun cases. The J. W. Hulme Company's successful formula of providing its craftsmen the finest American made materials bucks the manufacturing trend of outsourcing production of such soft goods. These bags reflect the time and attention to detail as in days of yore when artisans took pride in their creations. The result is quality products worth the premium that they command.
J. W. Hulme Company was founded in 1905 to make canvas products. Seventy-five years later the first bag was inspired by an heirloom bag owned by the grand-father of the company's chief designer, Norton Cross. They began manufacturing a line of sporting bags sold under the Gokey and Orvis brands. In 1996 the company dedicated itself to preserving and broadening the luggage collection by designing, producing and branding the line under the J. W. Hulme Company name. Products are sold to devoted customers through retail outlets, the catalog and the company's website. Each year has seen new innovations in design and materials while making a statement of traditional elegance.
###