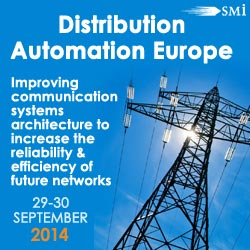 London (PRWEB UK) 19 June 2014
The global Distribution Automation (DA) market was worth over $9m in 2012 and is expected to reach a value of over $17m by 2019, growing at a CAGR of 8.5% from 2013 to 2019. Growth is driven by increased investment in Distribution Automation from Europe, which was the largest market for DA in 2012. Against this backdrop, SMi's 4th annual Distribution Automation Europe conference, taking place on 29-30 September in London, will feature an array of European utilities who are behind DA innovation and investment such as Union Fenosa Distribucion, Scottish Power, Alliander, UK Power Networks, E.ON Innovation Center Distribution, Scottish and Southern Power Distribution, and Electricity North West.
(Source: 'Distribution Automation Market Will Reach USD 17,677.2 Million Globally in 2019', Transparency Market Research Pvt. Ltd., https://www.linkedin.com/today/post/article/20140603073915-339157087-distribution-automation-market-will-reach-usd-17-677-2-million-globally-in-2019)
Speaker Panel includes:

David Trebolle, Active Management, Network and Control and Advanced Applications, Union Fenosa Distribucion
Stuart Neumann, Director, Advisory Services, Verdantix
John Kirkwood, Automation NCP Manager, Scottish Power Energy Networks
Bas Mulder, Senior Consultant, Operational Excellence, DNV GL - Energy
Pavla Mandatova, Advisor, Eurelectric
Furong Li, EPSRC Advanced Research Fellow, University of Bath
Stewart Reid, Future Network Policy Manager, Scottish and Southern Energy Power Distribution
Frans Campfens, Senior Business Architect, Asset Management, Alliander
Robin Hagemans, Manager Innovations & Livelab, Alliander
Tim Manandhar, Low Carbon Solutions Design Manager, UK Power Networks
Kevin Hoban, Future Networks Project Manager, Electricity North West
Damien Coyle, Future Networks Engineer, Electricity North West
To view the full speaker line-up and complete two-day conference programme, visit http://www.smi-online.co.uk/2014distribution-automation18.asp.
Plus, don't miss the post-conference workshop taking place on 1st October 2014:
From Big Data to Smart Data - Using signal, image and statistical processing techniques to extract value from Smart Grid and Smart Metering data | Led by Furong Li, EPSRC Advanced Research Fellow, University of Bath | 08.30-12.30