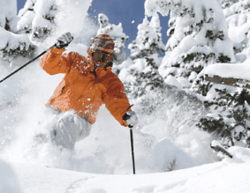 Rossland is a hub for Scenar® therapy in Canada, as well as four season
adventure town with a world class ski resort - Red Mountain Resort
(PRWEB) October 31, 2011
One of the best places to get treatment in Canada is in the Gold Rush town of Rossland in South East BC, tucked away in the beautiful Kootenay Mountains. Rossland boasts several practitioners trained in Scenar and if you are in pain, then Rossland just might be the Ski hill for you this year!
"17% to 31% of the general community report chronic pain" quoted by Canadian Pain Coalition when talking about National Pain Awareness Week 6 -12 th November.
Scenar medical technology is a non invasive hand held medical device now legal to use for the treatment of pain. Scenar is a stand alone treatment for all types of pain but can be used in conjunction with other treatment methods.
Scenar was also FDA cleared in USA in May 2010 and already it is becoming a force ot be reckoned with. Toni Bark MD, an integrative medical doctor in Chicago reports: "Scenar has been the single most useful tool I have found for my medical practice that quickly and painlessly relieves pain and returns function for my patients with injury. It is bar none the only treatment I have seen that improves or eliminates the pain of fibromyalgia".
###