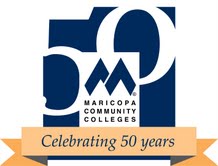 Each year, we facilitate focused dialogue and find ways to forward the discussion for black Americans in community colleges. --Dr. William Crawford, NCBAA President & VP of Student Affairs at Chandler Gilbert Community College
Tempe, AZ (PRWEB) October 17, 2012
The Maricopa Community Colleges will host the 11th Annual Dr. Carolyn Grubbs Williams Leadership Development Institute (LDI) and the Thomas Lakin Institute for Mentored Leadership (Lakin) later this month.
Each year, the National Council on Black American Affairs (NCBAA) and the Presidents' Roundtable (PRT) – affiliates of the American Association of Community Colleges (AACC) – convene these institutes in a different city to prepare African Americans in community college systems for executive leadership roles.
Additionally, Phoenix is hosting the PRT's Inaugural Men of Color Student Leadership Institute that helps young men build self image, career readiness, personal health and wellness, entrepreneurship, independent living, financial literacy and family relationships. All workshops will kick off starting Sunday, October 21.
"We are honored to be holding many of our flagship leadership events in Phoenix this year," said Dr. William Crawford, NCBAA President and Vice President for Student Affairs at Chandler Gilbert Community College. "Each year, we facilitate focused dialogue and find ways to forward the discussion for black Americans in community colleges. Participants will be immersed in sessions about leadership, ethics, diversity and inclusiveness, global awareness, technology and institutional change and development."
"We are proud to host NCBAA and its affiliates," said Maricopa Community Colleges Chancellor Rufus Glasper. "One in four current African-American community college presidents has come through the Lakin Institute. Efforts like these are critical to ensuring minority leaders have an equal opportunity to move into executive posts in the community college system and beyond."
About NCBAA and the Institutes
NCBAA is an affiliate of the American Association of Community Colleges (AACC). Institute participants include deans, faculty, supervisors, and others who aspire to college leadership positions; more information at http://www.ncbaa-international.org. The Lakin Institute, named in honor of visionary educator Dr. Thomas Lakin, is sponsored by the Presidents' Round Table, an affiliate of NCBAA and AACC. Click here for more information on this year's Lakin Institute.
###
The 10 regionally accredited Maricopa Community Colleges are: Chandler-Gilbert, Estrella Mountain (and SouthWest Skill Center), GateWay (and Maricopa Skill Center), Glendale, Mesa, Paradise Valley, Phoenix, Rio Salado, Scottsdale and South Mountain; there are satellite campuses and business/industry, technical and customized training institutes Valley-wide.