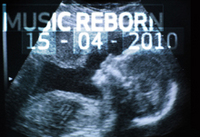 "mflow provides a platform for new artists and their music to gain valuable exposure and airtime in front of a music loving community"
London, UK (PRWEB) April 19, 2010
mflow have partnered with biggest independent distributor Ditto Music to provide fresh new material to a service who's users pride themselves on sharing and discovering new talent.
Ditto Music have secured an agreement with new service mflow, that is set to take the world of digital streaming to a whole new level. The agreement will allow independent artists to make their music available to mflow's wide audience of music lovers.
Ditto Music (http://www.dittomusic.com), previously responsible for 7 UK Top 40 singles all with unsigned artists, have expanded their vast distribution network, adding new streaming service mflow to their growing list of digital retailers. Initially Ditto Music will be making thousands of tracks available from it's top artists including Fince, Suzi Quattro and Prince, as well as thousands of brand new and as yet undiscovered tracks from up and coming talent.
mflow, an ad-free digital streaming, social and download service dubbed "iTunes meets Twitter" launched officially last week (15.04.2010) providing a platform for music lovers to share and access new music.
mflow is a desktop based application that allows music lovers to share and discover new music through 'flowing' tracks to their 'followers'. If a follower purchases a track via a flow then they receive 20% of the price paid. This new interactive way to discover music could potentially become a powerful tool for an independent or unsigned artist to gain exposure and expand their network of fans.
When asked about the new partnership Danny Watson, Head of Independent Labels at mflow said "mflow is a completely new way of discovering and buying music online. Because mflow allows people to easily discover new music via recommendations from personal and trusted sources, it provides a platform for new artists and their music to gain valuable exposure and airtime in front of a music loving community – more than that, it provides a simple and easy way for this community to buy as well as listen and recommend."
mflow launched last week (15.04.2010) and is available to any UK based consumer with an active broadband connection. Unsigned bands looking to get their music on to mflow and start earning royalties from their creativity should visit http://www.dittomusic.com, where they can now upload their music free of charge and distribute to mflow and hundreds of other stores for the set rate of £0.30/$0.45 per track.
About Ditto Music:
Established in 2005, Ditto Music is the largest independent digital distributor of digital, mobile, ring tone and video content, supplying over 500 stores worldwide. In 2007, Ditto was responsible for the first-ever UK Top 40 single by an unsigned http://www.dittomusic.com independent artist (Koopa). Since then, Ditto's distribution model has been posing a serious threat to the major labels. Ditto Music's roster includes Finch, Suzi Quatro, Tupac Shakur, My Vitriol, Samantha Fox, Gurrumul and Fairport Convention.
Press Contact
e: James Cherry – press (at) dittomusic (dot) com
t: +44 (0)121 551 6624
w: http://www.dittomusic.com
About mflow:
mflow is the way of discovering music through people.
On mflow, every user has a profile.  People flow tracks and albums they like to their followers (from their own music library or from the mflow store).  Followers see those tracks in their mflow inbox and can listen to them once – for free and gratis.  If they like the tracks, they can buy and download them there and then.  And if they do, the recommender receives 20% of whatever they spend in credit to buy more music. mflow is run by independent company Digital Distribution Networks and was founded in London in 2009.  It will launch to the public on 15 April 2010 and is in private Beta until then.  People wanting to preview mflow can sign up for an invite at http://www.mflow.com.
For more information please contact 77Pr at mflow (at) 77pr (dot) co (dot) uk.
###