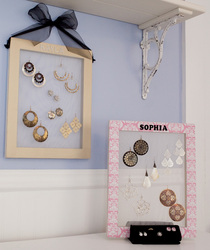 We were noticing that we, and all of our friends, had piles of earrings all over our bedrooms and bathrooms, while our earring trees stood empty and our jewelry boxes were abandoned with a clump of unused jewelry inside
Burlington, VT (PRWEB) November 18, 2010
Two former Vermont Teddy Bear employees announced today that they've teamed up to launch one of several new inventions – the Diva Dangler – an innovative new earring display that retails for $19.95. The Diva Dangler, http://www.DivaDangler.com, offers a simple solution to the common problem that women have when trying to organize earrings and jewelry. It is also the perfect product for an As Seen on TV campaign, similar to popular items like the Snuggie®, Ped Egg® and Bumpits®. The Diva Dangler's patent-pending design allows women to beautifully display and organize their earrings in just seconds, turning their tangled mess into a work of art.
"We were noticing that we, and all of our friends, had piles of earrings all over our bedrooms and bathrooms, while our earring trees stood empty and our jewelry boxes were abandoned with a clump of unused jewelry inside," said Irene Steiner, Diva Dangler Co-Founder and Inventor. "Our brains starting churning and voilà... the Diva Dangler was born!"
The Diva Dangler earring display is designed to hold dozens of earrings and can either be hung on the wall with one of two decorative bows or placed on a vanity or dresser in a custom designed ring stand which is included. Additionally, customers receive a free pair of silver chandelier earrings when they join the company's Earring of the Month Club.
The Diva Dangler is the brainchild of Sharon Monette-Owens and Irene Steiner, two entrepreneurs from Burlington, Vermont. Steiner was previously Vice President of Marketing for The Vermont Teddy Bear Company (VTB) and founder of The PajamaGram Company. Monette-Owens worked as Product Design Engineer for VTB for 12 years and brings her fashion design background to developing innovative, solution-based products. The two have a knack for inventing simple solutions to life's little challenges, coming up with those clever ideas that make one say, "Why didn't I think of that?"
"We both left great jobs and took a chance to live the dream lives of entrepreneurs," said Monette-Owens. "The Diva Dangler is the first of many products we will bring to our customers."
The Diva Dangler makes life a little easier for anyone with pierced ears from age 8 to age 80. At $19.95, the price point is expected to resonate with consumers in these tough economic times. Steiner and Monette-Owens are optimistic that they've created the must-have new gift idea for this coming holiday season.
Customers can order online at http://www.DivaDangler.com or call (805) 540-5252.
# # #