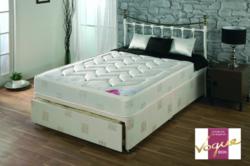 Unlike other beds divan beds usually come with a built in mattress that is tailored to the base.
Fife, Scotland (PRWEB) May 28, 2011
DivanBeds.org.uk today unveils an exclusive selection of divan beds & mattresses. DivanBeds.org.uk specialises in divan beds with a range spanning over 100 styles which are available in numerous colours, styles and sizes including; single, double & king size.
The aim of their website is to present clients facts about their entire divan beds range in addition to showcasing their unique manufacturing methods and discount prices. DivanBeds.org.uk stocks a variety of beds that are suitable for any purpose whether it's a magnificent centrepiece for the master bedroom or something cheap and cheerful for the children.
Furthermore DivanBeds.org.uk is also pleased to announce integration with several of the most popular social networks including Twitter and Facebook. The aim is to make it easier for clients to get answers to their questions whilst also allowing for interaction in the buying process. Facebook and Twitter will also allow them to reach a vast network of web savvy consumers.
Divan beds are amongst the most popular type of bed in the UK, Owner Lee said: "Unlike other beds divan beds usually come with a built in mattress that is tailored to the base. This makes them supremely comfortable and the built in storage drawers make them very practical."
Some of the more popular models of divan beds include the memory foam range, open coil range & of course there are many branded options available like Sealy, Memory Foam and Vogue. The typical price of a divan bed and mattress package ranges between £200 and £300 for an adult double. Single divan beds are cheaper whilst kingsize divans are more expensive. Divan bed bases are also available, these are the cheapest option but they don't come with a tailored mattress.
DivanBeds.org.uk has been on the cutting edge of contemporary and comfortable bed design for several decades. By launching this range of high quality beds they hope to appeal to more customers and using the internet and communication technologies such as FaceBook & Twitter should allow them to engage and interact with a nationwide audience.
To view then new range of divan beds or more about this company please visit http://divanbeds.org.uk
About DivanBeds.org.uk:
Located in Scotland, DivanBeds.org.uk specialises in divan beds. They launched their website in 2011 with over 100 exclusive styles that won't be found anywhere else. The Ritchie's have been running a local bed manufacturer for over 40 years.
###