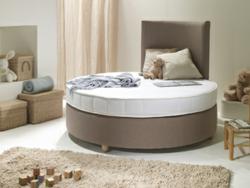 We are thrilled about this sale; round beds are hard to find with a mattress for under £1000, now we have 2 new models well under that price, mattress included
Scotland, UK (PRWEB) January 12, 2012
DivanBeds.org.uk today announces a huge sale on their range of round beds with savings of upto £500 on selected frames, prices start at £599. All their round bed prices include mattress and free delivery.
DivanBeds.org.uk boasts a wide range of beds from luxury round beds to cheap next day divans for those who need a bed fast. Numerous designs are exclusive to DivanBeds.org.uk and they have used several years of expertise to source straight from producers all over the world. This permits them to cut out the middle man and offer savings as high as 40% on standard high street prices.
Owner Lee said this about the sale: "We are thrilled about this sale; round beds are hard to find with a mattress for under £1000, now we have 2 new models well under that price, mattress included. Not only that but we also have a fantastic selection of divan beds from £89."
DivanBeds.org.uk has been on the cutting edge of contemporary and comfortable bed design for several decades.
Divan beds are amongst the most popular type of bed in the UK, Owner Lee said: "Unlike other beds, divan beds usually come with a built in mattress that is tailored to the base. This makes them supremely comfortable and the built in storage drawers make them very practical."
Some of the more popular models of divan beds include orthopaedic beds & of course there are many branded options available like Sealy, Memory Foam and Vogue. The typical price of a divan bed and mattress package ranges between £139 and £300 for an adult double.
To view more details on the new collection of round beds please visit http://www.divanbeds.org.uk/round-beds/
About DivanBeds.org.uk:
Located in Scotland, DivanBeds.org.uk specialises in divan beds. They launched their website in 2011 with over 100 exclusive styles that won't be found anywhere else.
###