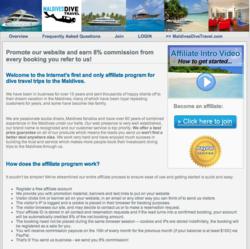 The affiliate program is perfect for website owners who are looking to add another revenue stream to their bottom line
Malé, Maldives (PRWEB) July 26, 2012
Website owners are being invited to get on board with Maldives Dive Travel and reap the financial rewards of the company's new affiliate program.
The program offers websites with similar interests such as diving, tourism and the Maldives the opportunity to feature Maldives Dive Travel's advertisements and links on their websites in return for commission from bookings made with Maldives Dive Travel via the links.
Maldives Dive Travel has been successfully leading the Maldives' diving holiday market for more than 20 years and is the largest independent live-aboard website in the country. The company has also recently expanded into the guesthouse market, bringing an even wider range of great value accommodation to a wider variety of travellers.
Affiliate manager, Raki Bench, said: "MaldivesDiveTravel.com offers top quality destinations in the Maldives at budget prices, backed by a best price guarantee.
"The affiliate program is perfect for website owners who are looking to add another revenue stream to their bottom line. We are excited to work with our affiliate partners and support them in maximizing their earnings with us."
With the new program, all affiliates need to do is register a free affiliate account and direct visitors to the Maldives Dive Travel website. When a user clicks on any of the links they are automatically directed to the Maldives Dive Travel Website, while the affiliate source is recorded by Maldives Dive Travel's affiliate software. If the user makes a reservation and payment, the affiliate's account is credited with 8% of the total sale value as commission.
Even if the user leaves the Maldives Dive Travel Website and comes back later to make the payment, the affiliate will still be credited for the sale, thanks to a clever permanent cookie on the user's computer which is retrieved by Maldives Dive Travel's booking system.
Each and every one of Maldives Dive Travel's customers have to use the online reservation system to make a booking, bookings cannot be taken over the phone. So even if a customer initially phones the company to try to make a booking after clicking on the link to Maldives Dive Travel, the sales team will re-direct them to the web form and the affiliate will still be credited for the completed booking.
Maldives Dive Travel's dedicated sales team looks after the sales, customer support and billing, as well as paying the affiliates their commission each month in USD by cheque or PayPal.
Affiliate partners can login 24 hours per day to check their sales, traffic, performance and account balance. Affiliates are even provided with a range of ressources which explain the simple steps to getting the maximum amount of benefits from the affiliate scheme.
For more information visit: http://www.maldivesdivetravel.com/aff/affiliates/