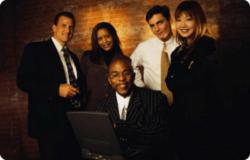 Diversity is simply the best way to compete.
New York, NY (PRWEB) November 28, 2012
Carlton's Training Solutions has two new initiatives regarding diversity training videos. The first is to present programs that practice a friendly, supportive workplace atmosphere where people of all walks of life have a feeling of freedom to create and contribute. Carlton's Training's second initiative is to utilize diversity training videos to help organizations see the positive financial benefits of having a diverse workforce.
The workplace is becoming vastly more global and the faces at a firm need to reflect that. And it's not just for show it's just to keep up. Studies show that the most innovative companies are those that are most diverse. As different ideas forge better ones from the various cultures in the workplace, organizations don't grow stagnant as new ideas are constantly emerging. Brian Stockwell of Keebler commented, "I don't hire people based on their appearance and diversity isn't something that is window dressing. Diversity is simply the best way to compete."
The drawbacks to a non-diverse workplace are immense. When someone is hesitant, unsure of themselves or feel they don't belong they can often move to another workplace where they are accepted. Or they sometimes stay while their newfound insecurities hinder their progress as they begin to under perform.
Workplace connections are important for team unity but they are also necessary. The communication lines between friendly coworkers are simply more productive than the forced conversations required to exchange information between non-friendly coworkers. So with the great potential of different ideas from distinctive backgrounds forming, it is imperative that managers foster an environment where the slew of new, innovative ideas are equal the atmosphere of a place where they can be expressed.
Just Be Fair is an amazing diversity training video to itemize a step by step process for creating an outstanding environment of productivity and creativity. It helps employees to welcome diversity and to be culturally competent.
Wealth, Innovation and Diversity is a corporate training video by Joel Barker and presented by Carlton's Training Solutions. In this program the differences in cultures are celebrated with historical authentication as to the power of diversity in a culture. Carlton's has implemented this diversity training video with clients' diversity curriculum to great success and satisifaction.
About Carlton's Training Solutions
Carlton's Training Solutions has built their reputation on their knowledge in the consulting world and more importantly partnering with the right organizations to help their clientele. For example, Carlton's has partnered with legal teams in the greater Los Angeles area to develop key strategies to tackle training for new sexual harassment laws and to make the workplace a safer, more comfortable working environment. They have also partnered with the business generals of the consulting world with rich personalities like John Cleese, Lou Holtz, Ben Zander and Dewitt Jones. They also tapped the resources of the business world leaders such as Bob Farrell, Tom Peters, Stephen Covey, Morris Massey and Ken Blanchard. To discover what programs might be beneficial to your organization or to find out more about Carlton's Training Solutions go to their site here at http://carltonstraining.com