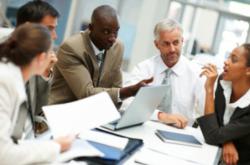 Boston, MA (PRWEB) June 15, 2013
Carlton's Training Solutions Jim Case has delivered plans to provide more diversity training videos to their clients for greater cultural awareness in the workplace. It has become increasingly important to corporations to embrace their diverse workforce. Now some new diversity training videos provided by Carlton's Training Solutions Jim Case are going to set the tone for the next few months in establishing cultural awareness.
Employees need to have a strong feeling of respect and inclusion in the workplace and the law guarantees it. According to the EEOC, Title VII of the Civil Rights Act of 1964 prohibits discrimination for hiring, firing, fringe benefits, specialized job training, promotions based on race, color, religion, sex or national origin. Corporations have recently stressed the need for diversity training DVDs to help underline these established laws in organizations.
One such diversity training video is Meet On Common Ground. This program takes real scenarios that can actually happen in the workplace and bring to bear how employees can knowingly or unwittingly find themselves violating laws or disrespecting fellow employees. This training video makes it very clear what constitutes a poor working environment and what violates an employee's civil rights.
But the reason Meet On Common Ground has found such a wide audience is the scenes. Things that make people uncomfortable but are not necessarily illegal are really highlighted here. These examples include racist jokes made about people of color by people of color in front of Caucasian employees, or conversations in a different language from managers that can be seen as negative comments behind their back.
Another great diversity training video is Diversity Food For Thought. The program looks at diversity through the eyes of a Diveristy Diner and how there are so many great ethnicities that comprise a culture and how blessed we are to have them in so many ways. The people in our environment create so many different perspectives in food, culture and ideas that any organization knows they need to embrace it.
Carlton's Training Solutions Jim Case brings forth the proposition and use of diversity training videos as not just a means to educate corporations on the important aspects of inclusion in the workplace. Diversity is a cultural gift that enables employees to gain fresh ideas from one another to bring to the workplace great innovations and success. To view these diversity training videos in this story or lean more about this company, click on their site at Carlton's Training Solutions Jim Case.