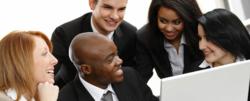 To capture a global market you have to have a diverse workforce.
Los Angeles, CA (PRWEB) June 08, 2013
Carlton's Training announced plans to revamp its diversity training video collection with Meet on Common Ground. This program illustrates how having a workforce with inclusion and respect creates not just for a happier workplace but a more productive one. Meet on Common Ground is a diversity training video from Carlton's Training that shows diversity isn't something for window dressing but for the bottom line.
Organizations have learned over the last decade that to succeed in a global economy, the smartest move to make is to invest in a staff with different backgrounds, cultures and perspectives. Training videos have for years been underlining this point and featuring people of different origins working together in harmony. But now that the almighty buck has entered the picture, even the normally all white, boys club, larger corporations are singing Kumbaya.
Meet On Common Ground is being met by more than just positive reviews. This diversity training video seems to have entered the marketplace just when it is needed. Right now more than ever it has become apparent that economies are branching out to a global market. The ideas in marketing, advertising and product placement have to capture a diverse economy now. Thus these ideas have to come from a diverse group to garner worldwide appeal. "To capture a global market you have to have a diverse workforce," says Andy Baker of Sony.
Carlton's Training has handled corporate training for Fortune 500 companies for over thirteen years. They provide training videos for their clientele on subjects such as substance abuse, change management, management training, performance management training, sexual harassment training, conflict resolution, trainer for trainers, telephone customer service training, time management, project management, safety training, sales training, team building, customer service videos, and workplace violence.
Through their training videos like Meet on Common Ground, Carlton's Training has created a forum for great business minds like Ben Zander, Bob Farrell, John Cleese, Morris Massey, Tom Peters, Lou Holtz, Ken Blanchard, Catherine Crier, Dewitt Jones, Stephen Covey, and Joel Barker. To view the diversity training video Meet on Common Ground or learn more about the authors mentioned click here on Carlton's Training.