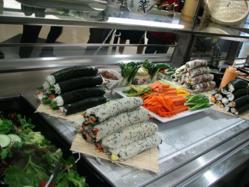 Islandia, NY (PRWEB) June 22, 2013
On Friday June 14th, East Haven High School celebrated "Diversity Day". Chef Rich Sandmann, Guest Chef from Whitsons School Nutrition, visited the school and prepared a delicious meal that embodied the spirit of "Diversity Day" at East Haven High School.
The delicious menu included classic American specialties, such as hand carved rotisserie roast beef au jus on a roll, and various international specialties that reflected New Haven's cultural diversity such as Middle Eastern homemade falafel with taboule, hummus and tzaziki sauce in a pita pocket; sushi flats, including California, Philly, veggie, or spicy shrimp rolls with Miso soup and spring green salad; Mexican-inspired Street Cart Taco Festival with Pork Carnitas, Grilled Chicken and Fish Tacos; and Italian street food such as classic fried dough with sauce or powdered sugar and grilled sausage and pepper subs with mozzarella cheese.
The Diversity Day lunch was a great success! Students and staff loved the lunch and learned a little bit more about other cultures through food. Enjoying different flavors from the world is a wonderful way to celebrate our community's diversity!
# # #
Whitsons Culinary Group provides a wide range of highly customized dining services to public schools, corporations and institutions, with a strong focus on nutritious, high quality menus made from fresh, wholesome ingredients. Whitsons has a long and proud history of excellence and growth since 1979 and currently ranks the 18th largest dining company in the United States (Food Management magazine, September 2012). Whitsons' scope of expertise and services extends to: emergency dining, residential and healthcare dining, prepared meals, and school dining and services.