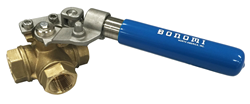 The low-torque seat design makes Bonomi brass three-way "deadman" valves the easiest to open and close.
CHARLOTTE, NC (PRWEB) August 09, 2016
Bonomi North America's unique new low-torque three-way, four-seated brass ball valves with spring return handles provide "deadman" mixing or diversion operations in either L-port or T-port configurations. They are available now in sizes 1/4-inch to 2 inches with FNTP end connections.
Bonomi 355NSRL (T-Port) and 365NSRL (L-Port) valves change flow paths with a quarter turn of the spring-loaded handle and return to the original flow path when the handle is released. Unlike conventional two-seated three-way ball valves, the Bonomi four-seated 355NRL can offer straight through flow, diversion, and shut-off capabilities. Like all Bonomi ball valves, they are 100% tested before shipping.
Other manufacturers use downstream "crusher" seat designs, elevating the torque required to effectively operate the handle. The Bonomi seat design utilizes Viton o-rings behind each seat allowing lighter "energized" seat to ball contact, making operation smoother and easier and extending valve life.
Bonomi 355SNRL/365NSRL valves also feature forged brass bodies that are stronger and lighter than typical sand-cast bodies. Standard chrome-plated balls and blowout proof stems, PTFE seats and double O-ring stem seals assure leak-free service. Maximum working pressure is 600 WOG.
The adjustable spring-return lever handles are made from heavy-duty corrosion-resistant stainless steel components that stand up to the environment and the stress of frequent use.
Bonomi also offers two-way full port brass valves with spring return handles for extremely fast filling or dumping. The two-way 250NSRL is made with a regular forged brass body and is available in sizes ¼" to 3". The 250NLFSRL is lead-free and available in sizes ½" to 2".
About Bonomi
Bonomi North America has served the U.S. and Canada since 2003 and is part of the Bonomi Group of Brescia, Italy. Bonomi Group brands include Rubinetterie Bresciane Bonomi (RB) brass ball valves and check valves; Valpres carbon and stainless steel ball valves; and Valbia pneumatic and electric industrial actuators. Bonomi North America maintains an extensive distribution network for these products from its headquarters in Charlotte, N.C. and a facility in Oakville, Ontario, Canada.
For more information on Bonomi ball valves with spring return handles or other Bonomi products, contact Bonomi North America at (704) 412-9031 or visit http://www.bonominorthamerica.com.