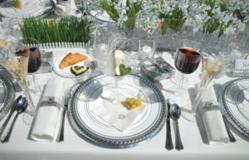 "Excellance is to do a common thing in an uncommon way"
by Booker T. Washington
Coconut Grove, FL (PRWEB) November 22, 2011
Looking for elegant plastics to use this holiday season or ideas for how to decorate on a budget? Divinedisposiables.com can help make this year's meal a success. Inventor and author Janyce Granoff says, "Choosing new wave plastic plates that look like real china is only the first step in producing a place setting that will mimic an upscale presentation."
Today the plastic industry is producing plastic plates that mimic real china, cutlery that looks like sterling, and table covers made from paper fibers that look and act like linen. Janyce's favorite new item is an Espresso cup.
"Grand events are always found in the details that surprise and delight the guests." gleams Granoof. She advocates setting the dining tables to dress the room and save money, especially if one is serving by buffet.
About Divine Disposables:
Divine Disposables began in 2005 when Janyce noticed there was a whole in the market. Divinedisposables.com specializes in elegant plastic plates, plastic wedding plates, and disposable dinner wear. For further information please contact Janyce Robins Granoff at 305-446-0466 or at divinedisposable.com.
###