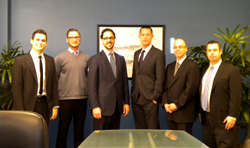 It goes without saying that a divorce can be one of the most difficult experiences in your life, so why make it harder?
San Francisco, CA (Vocus/PRWEB) February 03, 2011
Heath-Newton, LLP, a San Francisco Bay Area family law firm, has recently developed a guide for facilitating the divorce process. Heath-Newton attorneys focus on all areas of family law and estate planning. Using the experience of over 400 family law cases, their short guide is based on the expertise of their diverse team of San Francisco divorce attorneys.
"It goes without saying that a divorce can be one of the most difficult experiences in your life, so why make it harder?" writes divorce attorney Erik Newton, partner at Heath Newton, LLP. "Our three-step guide helps people understand what they can do to speed up and simplify the divorce process."
First, get organized. A divorce requires delivery of nearly all financial records to one's spouse. Even if the couple has been sharing all financial accounts, it is still necessary to put together copies of statements from each one, including bank statements, credit card statements, retirement accounts, pay stubs, etc. Start collecting PDF copies of all these statements now. If one stays organized, the process can be streamlined and sped up.
Second, do the paperwork. The divorce process requires a great deal of paperwork. The faster one works with a divorce or child custody attorney to complete the paperwork, the faster the finalization. The single (so to speak) most time-consuming task in a divorce is dividing community property. This is a difficult task, and can require lengthy negotiations. The negotiation process can't even begin, however, until the divorce attorney knows the entirety of the assets. That means the asset disclosure paperwork must be completed. The longer the wait to deliver those documents, the longer the divorce will take.
Third, reach a settlement. The number one most efficient way to wrap up a divorce is to reach a settlement. While this is not always possible, the willingness to negotiate and reach a fair settlement will save a great deal of time and money. A good divorce attorney will help clients understand what a fair settlement looks like.
"I see divorce clients every day," Newton says. "The first thing they often tell me is, "I just want this to be over with." Heath-Newton's new guide can be used to make the path to closure faster and a little smoother.
What sets Heath-Newton, LLP apart from other law firms is that all of their family planning services, including divorce, focus on family and individualized attention, regardless of background, lifestyle, or income level. Clients are shown how every choice affects their bottom line and every person in their family. Their straightforward four-step process allows Heath-Newton attorneys to assess the issues, goals, and risks of a client's situation and then create a legal plan to move forward with. Their thorough process is applied to all areas of family law, from adoption to same-sex marriage to premarital agreements.
"Erik has consistently provided me with professional, clear, and compassionate legal advice," says Heath-Newton, LLP client Rain S. about Erik Newton, firm partner. "He responds promptly with care and understanding. His articulate and direct communication is balanced with an open heart and deeply caring nature. When I need the support of legal counsel, Erik is the attorney I turn to."
The individualized, knowledgeable, and attentive care at Heath-Newton, LLP is cited as one of the main reasons clients are able to find collaborative solutions to their problems, while consistently referring others to the firm for all of their family law matters.
For more information about the divorce process or any other family law matter, please contact Heath-Newton, LLP by calling (415) 992-5038, visit their website at http://www.heathnewton.com, or drop by their office located at 240 Stockton Street, Suite 400 in San Francisco, California.
About Heath-Newton, LLP
Heath-Newton, LLP is a San Francisco family law practice focused on families. Their attorneys pride themselves on working with clients from all backgrounds and lifestyles. Heath-Newton, LLP specializes in premarital agreements (prenups), same-sex marriages, and domestic partnerships, divorce, child support, spousal support, adoption, child custody in San Francisco and the Bay Area.
# # #