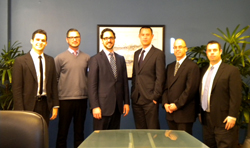 Premarital agreements are vital for couples who want to strengthen their relationships before marriage.
San Francisco, CA (Vocus/PRWEB) March 04, 2011
When entering a partnership, making a concrete financial plan allows for a couple to protect loved ones and their assets, while strengthening their vows and commitment to each other. More than ever couples are opting for cohabitation over marriage and many need a solid financial plan to secure their mutual assets. The prenuptial agreement helps relieve present and future potential property disputes, while bringing the focus to the partnership and not the payment.
"Premarital agreements are vital for couples who want to strengthen their relationships before marriage," said Heath-Newton, LLP managing partner Erik Newton. "In this environment, family finances are more important than ever before, and a vast number of marriages end over financial issues. Proactive couples are keen to address these issues in advance by understanding their obligations to one another, and by discussing premarital agreements."
San Francisco Bay Area family law firm Heath-Newton, LLP recommends that all engaged couples sign a prenuptial agreement, but warns that a poorly done agreement can cause difficulties if it cannot be enforced. With the experience of over 400 family law cases, Heath-Newton's team of San Francisco divorce attorneys tells those interested in a useful prenuptial agreement to follow three basic rules.
First, both parties must be represented by an attorney, even if one of the parties is an attorney themselves. The case law has been quite clear on this score: when one party doesn't know what they're getting into, the prenuptial agreement can be overturned.
Second, couples must give the process time. They must wait seven days between delivering the final draft of the agreement to each other and the signing of that draft. Also, it's best to begin negotiations before the wedding invitations go out.
Third, full disclosure of each spouse's financial picture is vital. When in doubt, one should over-disclose. Each person needs to know what she/he is getting into if the couple wants the agreement to be fair and enforceable.
Some couples sign prenuptial agreements that include terms they know aren't enforceable. They do this because they wish to memorialize agreements in writing, whether or not California courts will uphold those agreements. Other couples care mostly about protecting assets in case of a future breakup, and so enforcement is a top priority.
"I retained Mr. Erik Newton's services after being surprised by a prenuptial agreement presented by my husband several weeks before our wedding date," said Heath-Newton, LLP client Deborah J. "I spoke to several other lawyers before choosing Erik, who presented a wonderful, distinctive balance of personal concern, consideration for my spouse, and sharp expertise in the field. He helped me navigate through the scary legal jargon, and connect with my husband on the issues that mattered to us…I'd highly recommend Erik for others seeking an attorney in prenuptial law."
Heath-Newton attorneys focus on all areas of family law and estate planning. What sets Heath-Newton, LLP apart from other law firms is that clients are shown how every choice affects their bottom line and every person in their family. Their straightforward process allows Heath-Newton attorneys to assess the issues, goals, and risks of a client's situation and then create a legal plan with which to move forward.
For more information about prenuptial agreements or any of Heath-Newton, LLP's services, please contact Heath-Newton, LLP by calling (415) 992-5038, visit their website at http://www.heathnewton-sf.com, or drop by their office located at 240 Stockton Street, Suite 400 in San Francisco, California.
About Heath-Newton, LLP
Heath-Newton, LLP is a San Francisco family law practice focused on families. Their attorneys pride themselves on working with clients from all backgrounds and lifestyles. Heath-Newton, LLP specializes in premarital agreements (prenups), same-sex marriages and domestic partnerships, divorce, child support, spousal support, adoption, and child custody in San Francisco and the Bay Area.
# # #