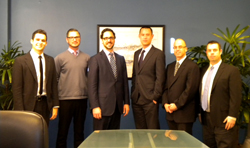 More and more gay and lesbian couples are finding that the law relating to their relationship is confusing and potentially very expensive
San Francisco, CA (Vocus/PRWEB) April 08, 2011
San Francisco family law firm, Heath-Newton, LPP, addresses legal issues associated with registered domestic partnerships for Lesbian, Gay, Bisexual, Transgender (LGBT) couples in California. Separation costs, out-of-state recognition and tax filing concerns hover over domestic partnerships, offering solutions based on their deep experience with gay and lesbian clients.
"More and more gay and lesbian couples are finding that the law relating to their relationship is confusing and potentially very expensive," said Heath-Newton, LLP Partner Terrance C. Heath. For example, he says, "many couples who have been together for years, and who are registered as domestic partners, are surprised when they later end their relationship and discover they are subject to the special rules surrounding 'community property.'"
The San Francisco divorce attorneys at Heath-Newton Family Law say that many gay and lesbian couples oftentimes discover that half of their earnings during the domestic partnership are deemed to belong to their partner. These clients also discover that they may have to pay spousal support (sometimes referred to as alimony) upon ending the relationship. This is because California law now extends the same burdens and benefits of marriage to registered domestic partners.
An additional hurdle facing gay and lesbian couples is that while California and several other states recognize domestic partnership, many states do not. This can create a problem when gay and lesbian couples move out of California and decide to divorce in their new state. In some cases, the couple must move back to California for the sole purpose of finalizing their divorce.
Registered domestic partnerships in California also face the reality of a complicated tax filing process. In California, domestic partners must file their tax returns as "married." However, for tax purposes, the IRS and federal government refuse to acknowledge either gay marriage or domestic partnerships. This results in gay and lesbian couples filing separate individual returns for federal taxes and then completing a mock "married" federal return to get the proper numbers to place on their California state returns.
Heath-Newton Family Law offers proactive advice to gay and lesbian couples based on the firm's experience working with the LGBT community. According to Erik Newton, a partner at Heath Newton LLP, many gay and lesbian couples are now using Preregistration Agreements (sometimes referred to as "prenups") to avoid community property and alimony problems that may arise in the future. Some couples are even choosing not to register as domestic partners at all; Instead they are securing documents such as wills, trusts, powers of attorneys and healthcare directives to protect themselves and create a quasi-marital relationship.
"There is no right answer to how any couple should memorialize their relationship," said Erik Newton. "Understanding the legal effect of their decisions, however, can save time, frustration and potentially money down the line."
For more information about registered domestic partnerships in California or any other family law matter, please contact Heath-Newton, LLP by calling (415) 992-5038, visit their website http://www.heathnewton.com, or stop by their office located at 240 Stockton Street, Suite 300 in San Francisco, California.
About Heath-Newton, LLP
Heath-Newton, LLP is a San Francisco family law practice focused on families. These San Francisco divorce attorneys pride themselves on working with clients from all backgrounds and lifestyles. Heath-Newton, LLP specializes in premarital agreements (prenups), same-sex marriages and domestic partnerships, divorce, child support, spousal support, adoption, and child custody in San Francisco and the Bay Area.
###