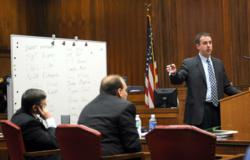 We understand that our clients are going through what is most likely the worst part of their lives. As divorce lawyers we owe them a duty to be sympathetic, helpful, and aggressively defend their interests and the interests of their children.
Cleveland, OH (PRWEB) May 06, 2011
Attorneys at Patituce & Associates have developed a reputation as divorce lawyers for aggressively pursuing their clients cases while at the same time still retaining the client centered approach that the law Firm is known for.
Joseph Patituce, President of Patituce & Associates, says about this approach "Our firm is a full service law firm, something most other law firms are not. This means that when our clients come to us with one issue we offer the flexibility to help them again, later in life with other problems. This also means that we understand the implications of a course of action better than others because we handle more than one area of law." As an example Patituce argued that as a divorce attorney he often makes sure that he advises his client on issues such as immigration, criminal, estate, and custody issues all at the same time.
Patituce & Associates has expanded its services to include the handling of divorce, custody, and support cases throughout all of Northern Ohio. The areas serviced include any of the cities and counties surrounding: Cleveland, Rocky River, Westlake, Bay Village, North Olmsted, Lorain, Elyria, Vermillion, Sandusky, Huron, Mansfield, Akron, Canton, Ravenna, Mentor, and Medina.
###