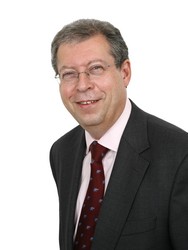 The purpose of Divorce? is to make people really think through their decision and then the whole process. This will help to generate informed discussions and better communication by getting both parties to start thinking and talking from the outset
(PRWeb UK) April 13, 2011
The first App to provide a comprehensive guide to divorcing in England and Wales has been launched for those going through or considering separation.
The App (Divorce?), which will save individuals hundreds of pounds in legal fees, is designed to provide a down to earth, practical and reality based overview of the divorcing process as a stark contrast to the celebrity quick fixes and high value feuds that are seen as the norm.
With a focus on mediation as a first point of action, Divorce? has been written by one of the UK's leading family lawyers, Peter Martin, head of family law at OGR Stock Denton and author of the Good Practice Guides for the UK College of Family Mediators and an examiner for the Family Law Panel.
Initially available for Apple devices through the iTunes Apps Store, Divorce? is written in a conversational style and talks users through the process, breaking down legal jargon and provides advice on key issues. It covers topics including: legal costs, the practical implications of separation, individual rights & entitlements, long term financial impact & expectations and the sensitive issues around handling any children involved.
With an opening section aimed at those in the early stages of considering their options, it could also help people avoid divorce entirely, saving their finances, heartache and marriage.
Peter Martin explains: "The purpose of Divorce? is to make people really think through their decision and then the whole process. This will help to generate informed discussions and better communication by getting both parties to start thinking and talking from the outset.
"It allows couples to have their eyes open before embarking on the formal stages of the process and spending money on legal fees. People don't always think through the actual implications of divorce and this App makes them do that from the moment they start contemplating the idea. It might hopefully even encourage some people not to give up on their marriage so easily and try to work things out."
Priced at £9.99, it is expected that using the App will save hundreds of pounds in legal fees by providing the time consuming advice up front and delaying the point at which lawyers need to be instructed.
Peter adds: "People spend significant amounts of money on a lawyers time just to go through the complex explanations of the process, working out practical elements and having financial discussions about needs and what the court considers important. Working through all of this in your own time before even meeting a lawyer should save hundreds in fees.
"This is not a gimmicky do it yourself guide, but a tool for making the process work for real people."
Reflecting the new move for divorcing couples to be referred for mediation prior to going to court, Divorce? promotes the use of mediation throughout the process and explains how it can work and how to get the best out of mediating.
A further, very useful feature of the App is the bespoke Financial Needs Calculator that follows the principles used by the family courts in deciding each party's financial needs when considering settlements.
Andrew Muir, Chairman of HG Apps Store, the company that designed and built the App, says: " Having been through a divorce myself, I was struck by how hard it can be to get the process started. At the time I felt there was a need for a simple, practical resource to help me understand what was happening and what I needed to be thinking about. This inspired me to approach Peter, who had guided me through my divorce, about making his advice available to the masses to help others going through what I did. It is not a substitute for personal legal advice, but it gives people the initial step up that I didn't have."
# # #