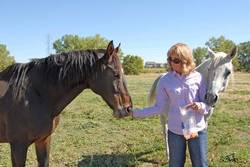 Denver, CO (PRWEB) September 10, 2008
The lawyers and staff of The Harris Law Firm volunteered at The Horse Protection League in Golden, Colorado to help celebrate the tenth annual Colorado Cares Day.
Colorado Cares encourages community partners and volunteers to donate their time for projects such as painting, cleanup, and simple carpentry work in local non-profit community centers serving families, seniors, children, animals, and other community members. Governor Ritter has furthered this volunteer tradition in 2008 by stating that this is the day that people of all ages and abilities give back to their communities and the state by sharing their time and talents to help make Colorado an even better place to live. This is in honor of Colorado's statehood dating back to 1876.
On Saturday July 26th, the attorneys and at The Harris Law Firm were up to their boots in "Horse Fun" by bucking hay, mucking stalls, and building fences for this non-profit organization dedicated to the welfare of horses. Solely supported and run entirely by volunteer members, this organization relies on the community to help care for abused, abandoned, and neglected horses.
About The Harris Law Firm:
Established in 1993, The Harris Law Firm is one of Denver's largest family law firms, employing a team of 14 skilled attorneys. In 2008, for the third consecutive year, firm founder Richard A. Harris was named a Colorado Super Lawyer of the Year. Super Lawyers are considered leading attorneys in the area of law in which they practice, and are selected via a survey of the state's top lawyers by Law & Politics Magazine.
In addition to divorce and child custody and support issues in Colorado, The Harris Law Firm also handles issues regarding mediation, marital agreements, and issues regarding maintenance, paternity, grandparents' rights, and step-parent adoptions.
For more information on The Harris Law Firm, including articles written by our Colorado family law attorneys, please visit our Web site: harrisfamilylaw.com
###