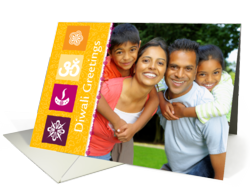 Diwali is a popular time for Indian businesses to send cards to extend wishes of happiness, good health and wealth to their employees, customers and suppliers.
San Francisco, CA (PRWEB) November 13, 2012
Greeting Card Universe, the world's largest greeting card store, announces its popular collection of 479 original and hard to find Diwali greeting cards. Diwali (also spelled Devali or Deepawali) is celebrated for five days and begins on November 13, 2012.
"Diwali is a spiritually and historically significant and important holiday," says Mindy Rosso-Gaemi, Community Manager at Greeting Card Universe. "Not only for the Hindu community, but Jains and Sikhs, and some Buddhists, also observe this celebration of the victory of light over darkness, the triumph of good over evil."
Globally, over a billion people celebrate Diwali each year, including an estimated 2.3 million Hindus living and working in the United States according to the U.S. Census Bureau. The importance of Diwali has been recognized by the U.S. Senate and the White House. In 2011, President Barack Obama lit the White House diya - a small lamp - to celebrate Diwali.
"Bright colors and sparkling lights are popular symbols of Diwali," says Rosso-Gaemi. "And many families create rangoli - a traditional Indian folk art created by drawing decorative designs such as flowers or geometric patterns with sand, dyed rice or flour, or flower petals on the floor. Some create new rangoli each day of the festival. For many, the diyas are lit to light the way for Lakshmi, the goddess of wealth, to find her way to homes to bestow good fortune."
The first day of Diwali marks the beginning of the fiscal year for many Indian businesses because of the holiday's relation to the goddess Lashkmi with hopes and prayers for a successful and prosperous year. It is a popular time for Indian businesses to extend wishes of happiness, good health and wealth to their employees, customers and suppliers.
Greeting Card Universe's online collection makes it simple and convenient to order a special custom card or Photo Card to send colorful Diwali Greetings. Shoppers can personalize the inside of all cards at Greeting Card Universe with their own text and photo.
"Custom greeting cards can also be created within 48 hours at no additional cost by requesting changes or a totally new design from our artist community of over 5,400 freelance artists from around the world," says Rosso-Gaemi. "And you can order online and pick up your cards - usually within 1 hour - from most Target stores across the country."
Greeting Card Universe's traditional and niche offerings of over 570,000 cards gives nod to the importance of choice and personalization in today's marketplace and stays true to its tagline "any card imaginable." More about Diwali and being "occasionally thoughtful" on the Greeting Card Universe BLOG.
About Greeting Card Universe
Greeting Card Universe (http://www.greetingcarduniverse.com) is a division of BigDates Solutions, a private company that provides consumers with unique, personalized services for any holiday or occasion. Greeting Card Universe is the world's largest paper greeting card store, offering an unlimited selection of greeting cards like birthday greeting cards, photo cards, invitations, note cards and more. BigDates Solutions is the leading provider of Online Reminder Service Solutions, powering gift-reminder services, including 1800Flowers.com and FTD.com. The company is also the owner of Birthday Calendar, a Facebook application with over 43 million installs.