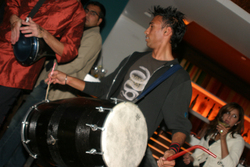 Celebrated worldwide, Diwali offers new beginnings, good fortune, religious elevation and enlightenment.Our goal at Tanzore in celebrating Diwali is to bring cultural awareness to all communities in a unique and fun way, Nikki Sood, owner of Tanzore.
Beverly Hills, CA (PRWEB) July 30, 2010
Tanzore Restaurant will be holding its 4th Annual Festival of Lights- also know as Diwali from November 3rd thru November 7th. The event celebrates the Indian New Year showcasing the beauty and richness of the Indian Culture. Tanzore will offer a variety of nightly entertainment, children's day, "bazaar" with fashion and jewelry, henna artists, nightly raffles and a special festival dinner/dessert menu. Proceeds from the Diwali Festival will benefit educational programs and other Charities.
Chef Paul at Tanzore creates a special three course festival menu with a variety of Vegetarian and non-vegetarian dishes. Reservations are being accepted for dinner at the pre-fixe price of $50.00 per person, plus tax and service charge per person. The price includes entry to the exhibits, entertainment and dinner. Tickets for entertainment and the "bazaar" only are $20 per person. To reserve your table and three-course menu festival menu please call (310) 652-3894. You can also visit http://www.tanzore.com for more information.
Nightly Entertainment will include:
November 3, 8:00 PM, Classical Tabla, Sitar and Traditional Henna Artists
November 4, 8:00 PM, Classical Indian Flute(Basuri) and Traditional Henna Artists
November 5, 8:30 PM, Dj, Henna Artists, Cultural Dancers & Dhol Player, "Baazar"
November 6, 8:30 PM Dj, Henna Artists, Fashion Show, Cultural Dancers, , "Baazar"
November 7, 11–5 PM Childrens Day, Henna Artists, Storytime, Fashion Show,
For more information about Tanzore restaurant, tickets, sponsorships, or donating to raffles, please contact Nikki Sood, 50 North La Cienega Blvd., Beverly Hills, CA, and USA 90211. Phone:818-512-8888; Website: http://www.tanzore.com Email: Nikki(at)Tanzore(dot)com
Recently named one Best 50 Restaurants by Angeleno Magazine and one of the Top 75 Restaurants by Los Angeles Magazine. In 2008 Tanzore was recommended by the Michelin Guide and Zagat rated as "Extraordinary to Perfection." Located in the heart of Beverly Hills, Tanzore has banquet facilities accommodating up to 170-seated guests. The Haveli room, an intimate private dining room, can seat up to 35 guests. The happening lounge with its giant wall-sized videos of fashion and Bollywood are great for cocktail receptions. The Lotus room accommodates up to 200 guests, is equipped with a 17x17 dance floor, a state-of-the-art Bose sound system, projector, screens, flat screen TVs, IPOD capability and Internet access.
# # #