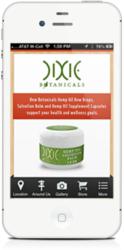 We [Dixie Botanicals] are proud to announce the launch of our Dixie Botanicals app created by Green Patient, LLC a developer of high quality native applications for mobile devices.
SAN DIEGO, CA (PRWEB) June 05, 2013
Medical Marijuana Inc. (OTC: MJNA), a leading hemp industry innovator, announced that its portfolio company, Red Dice Holdings, LLC's brand Dixie Botanicals is launching its new mobile app.
Dixie Botanicals will be launching a free Dixie Botanicals app available for Android users in Google Play as well as iPhone, iPad and iPod Touch through iTunes, to create more accessibility for consumers. Through Dixie Botanicals free downloadable app, consumers can purchase the company's hemp oil wellness products on the go, receive the latest updates from the company, and e-mail photos to the picture gallery. Frequent visitors can also unlock more valuable coupon rewards as they increase their usage. The free Dixie Botanicals app will be available at iTunes on June 5th. "It's been a great experience working with the Dixie Botanicals team to launch this innovative app bringing hemp health closer to customers through their mobile devices. Green Patient is excited to be aligned with such a forward thinking company," said Michael Stoltz, President of Green Patient, LLC.
"Dixie Botanicals brings the power of hemp to health-conscious consumers through our line of innovative products," said Tripp Keber, CEO of Red Dice Holdings. "We are proud to announce the launch of our Dixie Botanicals app created by Green Patient, LLC a developer of high quality native applications for mobile devices. Now our customers can access these important hemp oil products with just a click of a button on their mobile devices."
Dixie Botanicals manufactures its over-the-counter wellness products using naturally-occurring Cannabidiol (CBD) from industrial hemp. The hemp oil is derived from the stalk of a specific cultivar of the plant. Consumer benefits from Dixie Botanicals include: promoting overall wellness, easing anxiety due to stress and supporting muscle relief. Wholesalers can learn more about business opportunities at http://www.dixiebotanicals.com.
About Green Patient, LLC.
Green Patient develops high quality and affordable native mobile applications for all the major platforms that include Apple (iPhone & iPad), Android, Blackberry, Windows Phone 7, and Web OS. Learn more at: http://www.greenpatient.com
About Dixie Botanicals
Combining the latest scientific research with innovative thinking, Dixie Botanicals has created proprietary formulations that assist the body and mind to promote internal wellness. Our unique over the-counter nutraceuticals include dietary supplements containing naturally occurring Cannabidiol (CBD) from industrial hemp. Our products undergo a strict chemical analytical testing regimen provided by a certified ISO 17-025 testing facility. Dixie Botanicals are committed to providing the highest quality hemp oil wellness products to our customers with a focus on efficacy balanced with integrity.
About Medical Marijuana, Inc.
Our mission is to be the premier cannabis and hemp industry innovators, leveraging our team of professionals to source, evaluate and purchase value-added companies and products, while allowing them to keep their integrity and entrepreneurial spirit. We strive to create awareness within our industry, develop environmentally friendly, economically sustainable businesses, while increasing shareholder value.
Medical Marijuana Inc. does not grow, sell or distribute any substances that violate United States Law or the controlled substance act.
For more information, please visit the company's website at:
http://www.MedicalMarijuanaInc.com
FORWARD-LOOKING DISCLAIMER
This press release may contain certain forward-looking statements and information, as defined within the meaning of Section 27A of the Securities Act of 1933 and Section 21E of the Securities Exchange Act of 1934, and is subject to the Safe Harbor created by those sections. This material contains statements about expected future events and/or financial results that are forward-looking in nature and subject to risks and uncertainties. Such forward-looking statements by definition involve risks, uncertainties and other factors, which may cause the actual results, performance or achievements of Medical Marijuana, Inc. to be materially different from the statements made herein.
FOOD AND DRUG ADMINISTRATION (FDA) DISCLOSURE
These statements have not been evaluated by the Food and Drug Administration (FDA). These products and statements are not intended to diagnose, treat, cure, or prevent any disease.
Corporate Contact: Medical Marijuana, Inc.
Toll Free: 888-OTC-MJNA (888-682-6562) http://www.medicalmarijuanainc.com
http://www.facebook.com/mjnainc
Investor Relations Contact:
Stuart T. Smith SmallCapVoice.Com, Inc.
P. 512-267-2430 F. 512-267-2530
Email: ssmith(at)smallcapvoice(dot)com
Skype: SmallCapVoice.com
AIM: SmallCapVoice7
SOURCE Medical Marijuana Inc.