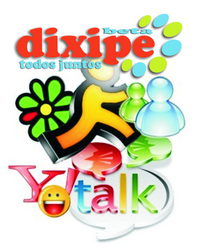 Dixipe exceeded our most optimistic expectations. After just a few months, we have received not only several awards and certifications from premium download sites around the globe, but a huge demand from our users. So we needed to ramp up our servers and revamp our website
Delaware (PRWEB) October 30, 2009
DixiCorp Inc. is proud to announce its newly revamped website, Dixipe at http://www.Dixipe.com, incorporating communications services into one easy-to-navigate site.
Dixipe provides a fully integrated address book, connecting users to major instant messaging networks, allowing them to chat with all their contacts from a single, easy-to-use interface.
The software and the site's main features are free. Users can purchase inexpensive pre-pay plans. Dixipe then transforms computers into a complete communications system, offering SMS and telephony services.
Many businesses are facing communications overload because of the explosion in ways to communicate over the internet and through mobile devices. Dixipe offers an uncomplicated way to stay connected on all levels.
Dixipe was released a few months ago by DixiCorp, a start-up founded in Latin America, which has already received seed capital from a group of angel investors and is negotiating a new round of funding with a venture capital group from South Africa.
"Dixipe exceeded our most optimistic expectations. After just a few months, we have received not only several awards and certifications from premium download sites around the globe, but a huge demand from our users. So we needed to ramp up our servers and revamp our website," said Claudio Rodriquez, CTO of DixiCorp.
In addition to receiving glowing reviews, Dixipe's redesigned site is also a certified secure site.
The new site includes Facebook integration, simplifying the log-in process. Users are being offered further incentives in the form of prizes for inviting a few friends.
For more information, please visit http://www.Dixipe.com.
About DixiCorp Inc.
DixiCorp Inc. is a communications and software internet technology company. DixiCorp offers enhanced solutions for businesses, including IP PBX and IVRs, feature-rich solutions for contact centers such as predictive dialers and CRM, plus unified communications utilities for the mass market.
Contact:
Patrick Dawson
(+1302) 752-1485
p (dot) dawson (at) dixipe (dot) com
###