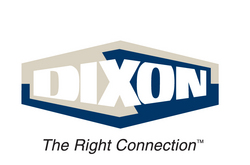 The same degree of excellent quality and performance we've always delivered in our sanitary valves has been built into our new industrial line
Pewaukee, Wis. (Vocus) March 20, 2008
Dixon Sanitary announces a major expansion of its Bradford™ product line to include a complete selection of industrial valves. The new introduction broadens Bradford's brand offerings to encompass industrial products as well as its existing line of sanitary valve products.
The new Bradford™ product offerings include a wide range of two- and three-piece ball valves made in either brass or stainless steel. Multi-port industrial brass and stainless steel ball valves are also available, providing shut-off and directional control capabilities in a single valve unit. In addition, pneumatic and electric actuators are available for automated control functions.
According to Bill Duyser, Marketing Manager, the product expansion gives Dixon Sanitary customers the ability to specify Bradford™ valves across their entire plant – not just in the food or sanitary areas. "The same degree of excellent quality and performance we've always delivered in our sanitary valves has been built into our new industrial line," he said. "Consequently, our customers can rely on them to maintain and regulate high volume and high pressure, as well as high temperature flow." (See the 2008 Actuation Catalog at bradfordfittings.com for more specific information.)
Customers include major processing facilities in the food, dairy, beverage/brewery and pharmaceuticals fields throughout North America. In addition, the new industrial line is perfectly suited for the needs of pulp and paper mills, water treatment facilities and chemical processing plants.
As part of its support to customers, Dixon Sanitary can actuate valves to individual specifications – including pneumatic and electric actuation – with 100% test, inspection and shipping accomplished within 24 hours or less on most actuation systems. Each valve features an ISO 5211 mounting pad which allows direct mounting of any matching actuator, eliminating the need for costly custom manufactured mounting brackets. Moreover, Bradford™ products not needing actuation are fully inventoried in 15 locations across North America, giving customers ready access to parts without incurring premium freight charges.
For more information and product specifications on the new Bradford™ line of industrial valves, contact Dixon Sanitary at 800-789-1718 or visit http://www.bradfordfittings.com/. The products are also on display and available for hands-on demonstration in Dixon's Mobile Training Trailers that visit plant sites in the United States and Canada throughout the year.
Dixon Sanitary is a leading U.S. manufacturer and supplier of fittings, valves, actuators and related accessories. Its Bradford™ product line supports a variety of industries such as beverage and brewery, food processing and pharmaceuticals in their sanitary-sensitive processing operations. Included in Bradford's comprehensive product offerings are a number of industry "firsts," such as patented squeeze clamps.
Dixon Sanitary is part of Dixon Valve, a leading international manufacturer and supplier of hose and coupling products to industry since 1916.
Contact:
Bill Duyser, Marketing Manager
Dixon Sanitary
800-789-1718
bduyser @ bradfordfittings.com
###