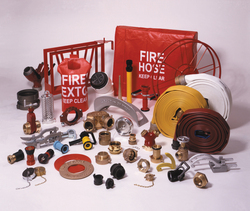 Much of the success of this acquisition is due to the fact that we were able to retain key players from the original company.
Chestertown, Md. (Vocus) January 10, 2008
It has been just over one year since the Powhatan line of fire protection products was acquired by Dixon from Kidde Fire Fighting. In that short time, the operation has opened a completely new manufacturing facility, as well as expanded its product line offerings to the fire protection market.
Craig French, plant manager, and many other veteran Powhatan employees made the move to the company's new manufacturing operations located in Winchester, Virginia. Bob Grace, general manager of Dixon Powhatan said, "Much of the success of this acquisition is due to the fact that we were able to retain key players from the original company." Dixon Powhatan began shipping products from the new facility in late 2006.
According to Hazen Arnold, sales manager, the design of the Winchester facility was driven by the need for customers to have a steady available supply of products. The new plant is a true "made for stock" facility rather than "made to order" operation. This means that customers – no matter where they are located – can receive orders the very next day as opposed to waiting for days or weeks for them to arrive. In addition to supplying the complete standard Dixon Powhatan line, quick delivery is also provided on special-thread items to meet the individualized needs of customers.
The Dixon Powhatan line of products is comprehensive, and includes pressure-reducing valves, angle and globe valves, gate valves, fire department connections, plus nozzles, caps, plugs, nipples, adapters and reducers. Products are readily available via Dixon's network of 12 company-owned branch/warehouse facilities stretching from New York to California.
In addition to improving product availability, delivery and reliability, Dixon Powhatan's R&D department is also re-engineering certain fire department connections to make them stronger, more durable and better-performing. R&D specialists are also working with Dixon's own foundry, Buck Company in Quarryville, Pa. to develop ductile iron FDCs as an alternative to conventional brass construction. In addition to being manufactured domestically, this material is more cost effective and less susceptible to pilferage.
Reflecting Dixon Powhatan's renewed commitment to the fire industry, the company has also joined or increased its involvement with several leading industry groups, including the Fire Equipment Manufacturers Association, the American Fire Sprinkler Association and the National Fire Sprinkler Association.
To learn more details about the complete line of Dixon Powhatan fire protection products and other products from Dixon Powhatan, call (800) 355-1991, ext. 299 or visit http://www.dixonpowhatan.com/.
Dixon Powhatan is a division of Dixon, a leading international manufacturer and supplier of hose fittings and accessories. Dixon serves a wide variety of industries, including the fire protection field, offering the industry's most comprehensive product line available from a single source.
###