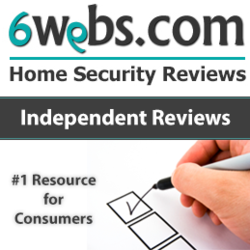 6Webs.com is the consumers' choice for independent home security system reviews.
Boston, MA (PRWEB) February 16, 2013
6Webs.com the home security reviews site that has helped thousands of consumers make an educated decision on purchasing the best home security monitoring services to protect their home and family. The independent reviews site recently released their picks of the best home security system companies in the nation. Consumers now have independent and unbiased reviews to refer to when they are in the market for a home security system with monitoring services.
The top home security system companies who provide 24/7 home monitoring services for intrusion, fire and dangerous levels of carbon monoxide can be broken into two categories with regard to their installation which is do-it-yourself (DIY) or professionally installed. Regardless of the installation method the quality of monitoring remains the same – it's all about a customer's preference.
According to Tim Smythe, the senior editor for 6Webs.com, "There are two types of home security shoppers that are in the market - those who prefer DIY home security systems and those who would prefer having their home security system professionally installed. Fortunately, consumers have the choice to select a home security company who is highly rated for either option they seek."
Of the top rated home security system companies there are two companies who cater to both audiences. FrontPoint Security provides an easy to install, wireless home security system for consumers who want to go the DIY installation route. Installation typically takes less than 15 minutes and the home security control panel is preconfigured at FrontPoint Security before it arrives at a customer's home. This not only saves time but makes the entire process very simple. FrontPoint Security is the overall best home security company in 2013 according to 6Webs.com. FrontPoint Security was awarded with the coveted Gold Award from 6Webs.com two years in row. To learn more about their home security services and to read the full FrontPoint Security review, please visit 6Webs.com.
ADT offers professional installation services through an authorized ADT dealer for all of their home security systems. ADT is the longest standing company in the home security industry and offers a wide array of home services including lifestyle management and home automation. To read the full ADT Security review, please visit 6Webs.com
All of the top rated home security companies offer wireless home security systems and cellular monitoring services which comes highly recommended by 6Webs.com. It is a superior technology when compared to landline and Internet-based home security systems. Selecting a home security providers that uses cellular monitoring is far more important than the type of installation method that is used.
About 6Webs.com
6Webs.com is the leading provider of unbiased home security reviews. Each year the 6Webs.com team reviews dozens of home security companies and ranks them on their website. Consumers can compare the features and advantages of each home security provider. Additionally, 6Webs.com focuses on delivering educational information so consumers can take steps to living a more secure and safer lifestyle.