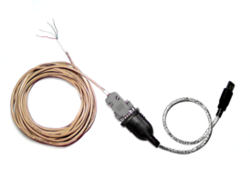 Albuquerque, NM (PRWEB) April 22, 2013
PhantomLink announces the release of its latest version of the do-it-yourself alarm monitoring solution, PhantomLink Direct. Version 1.05 adds new features that allow home alarm systems to be self-monitored from the internet.
PhantomLink Direct is a simple system designed to breathe new life into unmonitored alarm systems. It uses a simple USB cable, along with PhantomLink Direct software. All it requires is an existing alarm system and a PC with internet access.
PhantomLink Direct links the security system to the internet. If an alarm signal is detected, PhantomLink's servers immediately send an email or text message to up to 8 different accounts. Users can also log into a web-based dashboard to see a 48-hour history of alarm events.
Version 1.05 provides enhanced functionality, including the option to be notified when alarm conditions are cleared or reset. Previous versions only notified users when an alarm condition was first detected.
Version 1.05 also provides enhanced triggering that detects any change in system status. This gives PhantomLink Direct a much faster response time: less than 3 seconds to detect an event and relay an alert to users.
"PhantomLink Direct is the easiest and most inexpensive solution for do-it-yourself alarm monitoring," says Adam Peters, the company's founder. "There are no service fees and no contracts. There is no need for a separate phone line, either, since PhantomLink Direct uses an internet connection. The only cost is a simple $40 USB adapter cable. That's less than many people pay for a single month of monitoring services."
Product details and installation instructions for this self-monitored security system solution can be found on the PhantomLink website.
PhantomLink.com provides internet-enabled self-monitored security technologies and wireless HD security cameras. PhantomLink.com was developed by and is operated by Phantom Data Services, LLC, a New Mexico limited liability company specializing in advanced web-enabled and mobile technologies. Visit http://www.phantomlink.com for more information.