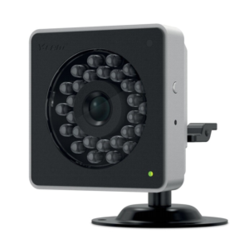 Albuquerque, New Mexico (PRWEB) May 21, 2013
PhantomLink is pleased to announce the addition of the Y-cam Cube to its offering of wireless high-definition cameras. The Cube is the latest in Y-cam's professional grade wireless network camera range, providing VGA, 720p, and 1080p HD resolution models, with IR night vision, Wi-Fi N, and up to 64GB of on-camera storage, giving home or business customers the utmost in security, integration, design and reliability.
All three Cube models provide 24 hour protection and peace of mind. Advanced around-the-clock features include powerful market-leading night vision, powered by 28 instantly-activating infrared LED lights and an automatic IR cut-filter which provides accurate daytime color representation, as well as crisp night time images, even in pitch black darkness. Teamed with the highest quality CMOS lenses and built-in microphone means the Cube gives ultimate security through the day and night.
This feature-packed professional camera range combines market leading features and the latest technology. Intuitive motion detection, instant email alerts, one-button Wi-Fi set-up with WPS, real-time video and audio streaming (including HD at 30fps), advanced Wi-Fi N, minimal bandwidth usage and storage from the latest H.264 compression technology, the Cube is an IP camera with clout. On top of these features, the Cube houses a built-in microSD slot for on-camera recording capable of storing up to 64GB of data, equating to over 90 hours of footage at the highest quality HD resolution.
The Cube range is one of the few IP cameras that not only supports both PC and Mac computers but also offers a dedicated mobile stream for direct mobile viewing on both Apple and Android products. It also works with a huge variety of 3rd party products and services, eliminating the need to purchase separate or additional equipment. Additionally, with a simple PoE Dongle, the cameras are capable of Power over Ethernet installations, offering complete flexibility for users and installers.
For more information about the Y-cam Cube and PhantomLink's other DIY alarm monitoring solutions, visit: http://www.phantomlink.com
PhantomLink.com provides internet-enabled self-monitored security technologies and wireless HD security cameras. PhantomLink.com was developed by and is operated by Phantom Data Services, LLC, a New Mexico limited liability company specializing in advanced web-enabled and mobile technologies.