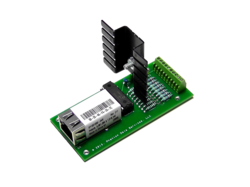 Albuquerque, New Mexico (PRWEB) May 30, 2013
Phantom Data Services is pleased to announce the launch of the PhantomLink mobile dashboard, bringing universal alarm monitoring and text message alerts to any internet-enabled smartphone. The PhantomLink mobile dashboard works interchangeably with all PhantomLink universal alarm monitoring devices, including the PhantomLink Direct USB Cable and PhantomLink Ethernet Adapter.
PhantomLink's do-it-yourself alarm monitoring solutions bring internet connectivity to nearly any home security system or sensor. It provides a no-cost service for users to self-monitor their homes and businesses via web, email, text message, or smartphone.
PhantomLink Direct uses a simple USB cable, along with PhantomLink Direct software. All it requires is an existing alarm system and a PC with internet access.
The PhantomLink Ethernet Adapter is a more self-contained solution than the Direct USB Cable. It is a small device that requires only an existing security system/sensor and an internet connection. The device connects directly into the user's network with a standard Ethernet cable. The installation process is designed to be as simple as possible. For most home installations, it is a nearly "plug-and-play" process that takes less than 30 minutes from start to finish.
Once PhantomLink devices are installed; they provide no-cost alert services. If an alarm or sensor signal is detected, PhantomLink's servers immediately send an email and text message to up to 8 different accounts. Users can then use a mobile dashboard to check system status, or they can log into a web-based dashboard to see a 48-hour history of alarm events.
Optionally, users can add HD security cameras to their web dashboard, and see real-time video of their home or business. The addition of real-time video helps users verify the alarm before alerting authorities. This greatly reduces the potential for false alarms (and consequential false alarm fines).
Potential applications for PhantomLink are not limited to security systems. Many other types of sensors, such as water leak detectors, door switches, and motion detectors, can be remotely monitored by the PhantomLink system.
For more information, visit http://www.phantomlink.com
PhantomLink.com provides internet-enabled self-monitored security technologies and wireless HD security cameras. PhantomLink.com was developed by and is operated by Phantom Data Services, LLC, a New Mexico limited liability company specializing in advanced web-enabled and mobile technologies.