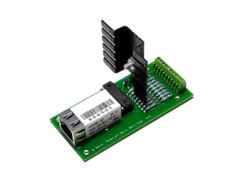 One of the most important characteristics of the PhantomLink system is its flexibility.
Albuquerque, New Mexico (PRWEB) June 17, 2013
A recent study conducted by PhantomLink.com indicates that although a large number of homes in the United States have security systems installed, many owners choose to leave their systems unmonitored. Among the most common reasons cited were high service fees, a lack of perceived value, and a lack of flexibility in service options. In response to these needs, PhantomLink continues to upgrade and expand its line of do-it-yourself alarm monitoring adapters. PhantomLink has also added new features to its web-based alarm monitoring dashboard, delivering near-instantaneous status updates via web, smartphone, email, and text messaging.
PhantomLink's DIY monitoring system uses an easy-to-install adapter that links nearly any alarm system to the internet. The adapter publishes status updates to PhantomLink servers, and if it senses an alarm, or if internet access is somehow disconnected, the servers immediately notify the user via email or text message alerts. The user can log into the PhantomLink dashboard to review system status and see a timeline of alarm events. The dashboard can also combine data from multiple devices and high-definition security cameras, providing a system-wide perspective of the situation.
One of the most important characteristics of the PhantomLink system is its flexibility. Each PhantomLink adapter supports up to 8 different trigger sources, and can send alerts to up to 8 different email and text message accounts. This allows the user to build a highly customized alert system based on their specific needs. Users can even mix trigger sources, so security systems, water level sensors, and temperature sensors can all be monitored with a single PhantomLink adapter.
Another important characteristic of the PhantomLink system is its overall cost. There is a single up-front charge of $90 for the adapter. After that, since the system is self-monitored by the user, there are no recurring monthly service fees. Access to the web dashboard is also provided at no cost, supported exclusively by advertisers on the PhantomLink website.
For more information, visit http://www.phantomlink.com
PhantomLink is developed and operated by Phantom Data Services, LLC, which provides advanced internet communication technologies, including do-it-yourself security solutions, voice processing applications, and high-definition security cameras.