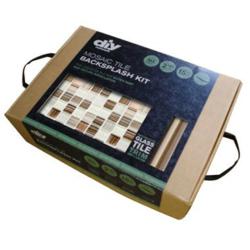 Easy and affordable way to update his kitchen backsplash.
(PRWEB) October 05, 2012
A nifty new addition to the DIY home improvement market, the DIY Backsplash kit, manufactured by Surfaces, employs an innovative peel and stick technology that makes DIY backsplash installation an easy, painless task. This technology saves hours of manual labor spent in plastering cement or other tile adhesives to the wall. The tiles can be attached to the wall by simply removing the protective covering at the back and pressing them into the required position!
And rave reviews are already flowing in, "Looks like we spent three days working on this whereas it took us over an hour!" said Brent, who needed a quick, easy and affordable way to update his kitchen backsplash.
Prices
The most popular kits include 15 square feet of glass mosaic tiles that can be arranged in custom patterns. However, for smaller areas, customers can opt for a smaller kit which contains 5 square feet of mosaic tiles. The prices range from $89 for the 5ft kits to $149 for the 15ft kits. Glass mosaic tiles offer a greater advantage than traditional natural stone tiles because of both, ease of installation and their lower prices.
Colors and Designs
The mosaic tiles are available in several patterns and colors—enough to satisfy homeowners and interior designers. Initially available in five colors and designs, which ranged from soft pink hues of rose to rich brown shades of bamboo, the manufacturer have recently expanded their collection to a total of eight designs. The new additions, which include a tile design in shimmery shades of gray, have become instant best sellers. Each design and color template has been carefully selected to ensure that the backsplash complements almost any type of kitchen setting.
In addition to the DIY Backsplash Kit, Mineral Tiles also launched a collection of subway glass tiles using the same peel and stick technology. The tiles are available in thirty two colors and come in the traditional 3"x6" size.
Ease of Installation
To make installation simple, the manufacturers have thoughtfully included all the necessary materials and tools that are required to finish the job: a utility blade, tile spacers, grout float, and sponging gloves are all part and parcel of the kit. But what makes this kit a real winner is the inclusion of premixed grout: Homeowners no longer have to spend hours scratching their heads while trying to figure out the correct ratio of grout mix. And for those who are still a bit doubtful about their DIY skills, some kits also include extra tiles and trim pieces to accommodate for any potential mistakes that may occur during installation.
The DIY Backsplash kit makes a messy, painstaking decorating task become easy, clean and trouble-free. No wonder people are calling it the "REAL Do-it-Yourself Product"!
About the Company:
MineralTiles.com is a web-based retail organization that deals primarily in tiles. The company works directly with manufacturers to ensure that its customers can choose from the largest possible variety of tiles to fulfill their decorating needs. The company prides itself on providing high quality stainless steel tiles, and mosaic tiles at affordable prices.