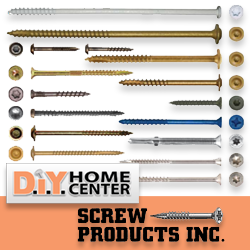 We are very selective of the products that we offer and Screw Products meets the high quality that our customers demand.
Green Bay, WI (PRWEB) January 04, 2012
DIY Home Center, a home improvement online retailer, announces the online availability of Screw Products. Screw Products compliments products on DIY Home Center that focus on materials needed for home improvement projects.
Screw Products, Inc. Star Screws feature a star drive head that reduces camout, mushrooming and problems typically seen with other drive types. Many products feature deep, sharp threads and install with ease. Screw Products star drive wood screws are milled with an extra deep recess that provides the screws with twice the torque over Phillips or square drive screws. The benefits include, longer bit life, reduced camout, reduced end load, and virtually eliminates stripping and fastener damage. Products are made of heat treated hardened steel.
"We are very excited to offer Screw Products large selection of interior and exterior wood screws at DIY Home Center," said Mike Anderson, President of DIY Home Center. "We are very selective of the products that we offer and Screw Products meets the high quality that our customers demand."
"We are thrilled that DIY Home Center is offering our products," said Jim Miller, President of Screw Products, Inc. "Our Screw Products website recently changed to an information only website. We decided to work with DIY Home Center because of their strong emphasis on customer service and ability to take care of the customer. They value service as much as we do, and that was a key factor in selecting DIY Home Center as one of our preferred online retailers."
Screw Products include cabinet screws, construction lag screws, finish screws, standard exterior screws, trim head screws, extra-long screws, heavy duty screws, multipurpose screws, pocket screws, composite decking screws, stainless steel deck screws, plus fascia and fencing screws. In addition, Screw Products include driver bits, bit holders, cement board screws, gutter screws, The Deck Clip, DeckLok, Reamer Tek Screws, Tapcon Screws and assorted screw kits.
For more information, please visit http://www.diyhomecenter.com/screw-products or call 1-888-349-4660. "Like" DIY Home Center on Facebook and follow us on Twitter find out about product tips and project ideas.
About DIY Home Center
Headquartered in Green Bay WI, DIY Home Center is an online retailer for the home improvement and building materials industry that specializes in products for decks, patios, gardens and for the home. DIY Home Center offers unique, premium and hard to find products. DIY Home Center product brands include Screw Products, auraMist Misting Fans, CAMO Hidden Deck Fasteners, Deckorators Balusters, Post Caps & Lighting Sets, DuraFlash Vinyl Flashing, FastenMaster Deck Screws, Fortress Iron Railing Balusters, HeatTrak Snow Melting Mats, Kronotex Laminate Flooring, Outdoor Essentials Garden Bed Brackets, Post Caps & Stepping Stones, Penofin Deck Stain, Polywood Outdoor Furniture, Purely UV Germicidal Bulbs, Trex Hideaway Hidden Deck Fasteners, Trex Outdoor Furniture, TimberTech CONCEALoc Hidden Deck Fasteners, Tiger Claw Hidden Deck Fasteners, Tyvek® Weatherization and UnderDeck Deck Roof System.
###