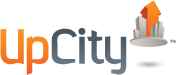 For SMBs, the world of online marketing is only getting more confusing, and they need a way to understand how search engine optimization, reputation management, social media and blogging all fit together to drive free traffic to their business.
Chicago, Ill. (PRWEB) January 16, 2013
DIYSEO announced today it has raised more than $2 million in a second round of venture capital funding and has rebranded the company to UpCity (http://upcity.com). With the new investment, UpCity has enhanced its Pathway™ platform to provide inbound marketing to small and medium sized businesses (SMBs). Pathway is an affordable and simple platform that helps small businesses succeed online by leveraging an education focused, learn-as-you-go process. Pathway helps small businesses overwhelmed by online marketing who need more practical education on how to grow their business online.
The funding, which brings UpCity's investment total to approximately $4 million, includes new investors i2a Fund and Firestarter Fund, both based in Chicago; and RIME Communications Capital of New York. Also included were existing investors Daylight Partners and Harris Preston & Partners, both based in Austin, Texas; and UpCity co-founders Patrick Gavin and Andy Hagans. As part of the round, Rocky Mountain, a partner at Daylight Partners and Stuart Frankel, CEO of Chicago-based Narrative Science, joined UpCity's Board of Directors.
"This latest round of funding not only demonstrates the strong confidence the investment community continues to have in our company; it also reaffirms the commitment we made to small businesses on day one: to provide them with affordable, focused and personalized solutions to help them meet their online marketing goals," said UpCity CEO Dan Olson. "For SMBs, the world of online marketing is only getting more confusing, and they need a way to understand how search engine optimization, reputation management, social media and blogging all fit together to drive free traffic to their business."
In developing Pathway, UpCity utilized DIYSEO's original SEO solution -- a simple, step-by-step process for SMBs to raise their visibility online -- and enhanced it in four ways:

To reflect how SEO has evolved into inbound marketing, Pathway now includes social media optimization, blogging and content development, reputation management, mobile and conversion optimization
Pathway uses game mechanics to make the overall experience more fun and engaging by rewarding clients for completing tasks and achieving rank and traffic improvements
It adds new education tools and commentary, including additional video and tutorials, to provide more guidance to help novices become experts
It provides an Ask an Expert area that allows small businesses to cost effectively tap into the knowledge of SEO and Inbound Marketing experts in the industry.
UpCity has gotten a significant amount of traction in the SMB space by white labeling the Pathway platform for a number of great partners in the domain/hosting, DIY website, agency and newspaper/yellow pages industries. These partners understand the need for a cost effective inbound marketing solution that focuses on education and workflow to drive results for SMBs.
UpCity brings Pathway to market at a time when interest for SEO is soaring among small businesses. In fact, a MerchantCircle/Reply.com survey of 2,500 SMBs found that most businesses consider SEO to be their single most important marketing channel. When asked, "If you had to put all your marketing time and budget into only one channel, what would it be?", 32.9 percent of the SMB respondents said SEO, compared to just 19.7 percent for traditional media, 16 percent for social media, 9.8 percent for paid search advertising, and 3.7 percent for mobile marketing and advertising (17.9 percent said "none of the above").
These findings dovetail with a customer survey conducted by UpCity. According to the results, the top two priorities for SMBs this year were SEO and website updates. UpCity's customers rated both of these priorities nine points on a 10-point scale, measuring which online marketing efforts they planned to focus on in the upcoming year. When asked how likely their potential customers would be to look for their businesses on various marketing channels, the customers rated search engines highest among all the channels at an average of more than 9 points.
About UpCity
Founded as DIYSEO in 2009, UpCity is passionate about helping companies succeed in optimizing their digital presence. We offer Pathway™, a cost-effective platform for small businesses to get free traffic from the Web, and convert that traffic to revenue. While Pathway™ helps business owners discover and implement digital strategies, it also leverages game mechanics and step-by-step progression to create an engaging way to turn novices into online marketing experts. Pathway™ is available as either a self-directed DIY (Do-It-Yourself) solution, or as a full-service DIFM (Do-It-For-Me) alternative for companies that need more assistance. UpCity also makes the Pathway™ platform available to reseller channel partners seeking a white-label, turnkey solution to monetize and educate their SMB customers.
-- # # # --