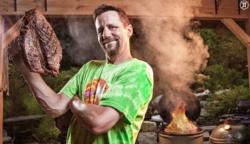 "earning 12 KCBS Grand Championships by using our spices and cooking on the Big Green Egg®," said, Dizzy Pig® CEO, Chris Capell.
Manassas,VA (PRWEB) October 17, 2012
The Dizzy Pig Barbecue Company is pleased to announce that Big Green Egg® enthusiasts will be grilling their favorite recipes at a cookout invitational with guest, Mike Kerslake.
Dizzy Pig® Barbecue Company, maker of brightly flavored and perfectly balanced seasonings for barbecue, grilling and home cooking, is hosting its third "DizzyFest," on Saturday, November 10th from 10:00AM to 5:30PM in Manassas,Virginia. The event features up to fifty-five avid Big Green Egg® cooks, along with friends, family and barbecue-lovers, at the company's storefront for a day of sharing their favorite recipes and enjoying delicious food. Special guest, Mike Kerslake will demonstrate his famous curing recipes.
Mike Kerslake's history with Dizzy Pig® goes back to 2002, co-founding the company and bringing in Dizzy Dust™ and CowLick™ blends.  After running the Canadian end of business for a number of years, Kerslake decided to put all efforts into competition barbecue and other culinary pursuits.  These efforts lead to awards in Canada and the U.S. including the Canadian Open Championship in 2005 and top International team at the Jack Daniels barbecue competition in 2006. An interest in curing of meats for the restaurant lead to several recipes, now featured on the Dizzy Pig® website. Kerslake has been promoting the 'Formula to Success' brine curing recipe; a formula to produce customized meat curing for the home enthusiast.  It is this technique and recipe that Kerslake will be demonstrating at DizzyFest 3, November 10th.  The free demo is an introduction to the world of artisan meat curing as Kerslake demystifies the craft.
The Dizzy Pig® store specializes in the sale of Big Green Egg® cookers and their accessories, providing expert service as well as advice on cooking on Big Green Eggs®. Everybody in the store has cooked at some point with Chris Capell on the Dizzy Pig® Barbecue team. Its store and team's credibility comes from
"Earning 12 KCBS Grand Championships by using our spices and cooking on the Big Green Egg®," said, Dizzy Pig® CEO, Chris Capell.
Dizzy Pig® is pre-selling demonstration Big Green Eggs® used for the event at discounted rates, and offering 10% off of EGGcessories™ and other grilling supplies at the store. The Dizzy Pig® store carries many tools and sauces along with the Dizzy Pig® seasonings that can't be found anywhere else in the area. Tickets are on sale now on our event site.
About Big Green Egg
Big Green Egg Company®, headquartered in Tucker, Georgia, is the world's largest producer and international distributor of ceramic kamado-style cookers. Founded in 1974 by Ed Fisher, the company has an impeccable reputation for offering top quality products and excellent customer service. The EGG® offers unmatched cooking flexibility and capability that surpass all other conventional cookers combined. It is a smoker, a grill and an oven and enables year-round cooking. Five sizes of the EGG® and an extensive line of EGGcessories™ are available in barbecue and hearth specialty stores, pool and patio shops and select hardware and garden/nursery outlets. For more information or to find a retailer near you, visit http://www.biggreenegg.com.
Contact
Dizzy Pig Barbecue Company
8763 Virginia Meadows Drive
Manassas,VA 20109
703-273-3580