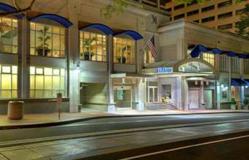 We are hoping that everyone has a bumper time this year
Portland, OR (PRWEB) September 01, 2011
The popularity of the open source Django web framework is underlined by a 30% increase over last year's attendance for DjangoCon US with a week still to go. Django, "the web framework for perfectionists with deadlines" is used by many large corporations, and is a special favorite of the newspaper industry.
The organizers, Open Bastion, announced that to mark reaching last year's attendance figure the purchaser of ticket #255 would receive a full refund. The prize should have gone to Caktus Consulting Group, who purchased tickets 248 through 257, but Caktus generously said that the prize should go to the buyer of ticket #358. Enter web designer and recent arrival in Portland Barbara Shaurette, who was delighted to learn of her luck. "This will be really helpful," she said, "as I had bought my own ticket to the conference."
Steve Holden of The Open Bastion said "This will be the last of three years in Portland for DjangoCon, so we are trying to engage delegates with the new downtown location and show them a few of Portland's many attractions. Sponsors have also been generous, so we are hoping that everyone has a bumper time this year." It won't be all work, either: the Django crowd are known to enjoy the social side of their conferences, and anything from gymnastic (see video) to weddings (two years ago) can be expected.
DjangoCon moves to Washington, DC for 2012 and Chicago for 2013.
###