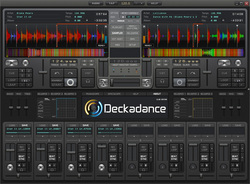 Deckadance 1.5 is a powerful combination from all features that users already know, along with many improved options. I believe this new version will cover the requirements of even the most demanding DJ's all over the world and will help them to show their best
(PRWEB) May 20, 2009
Sint-Martens-Latem, Belgium Image Line Software, the developer of FL Studio (formerly FruityLoops), released the newest version of its DJ mixing software Deckadance with many improved functionalities for the best DJ performance.
Deckadance 1.5 is available for MAC and PC and gains a new audio engine with an amazing high quality of the sound. Version 1.5 now supports batch beat-analysis of the songs (reducing load times/CPU load during a performance) and time-stretching/compression technology. DJs can enjoy new playlist design with variable font sizes, view modes and the ability to import iTunes playlists.
To aid setup, the input and outputs of the program now appear as stereo channels making installation and routing of audio inputs/outputs more intuitive. Finally, users can choose between "Auto" or "Manual" beatgrid analysis modes, on a song-by-song basis, according to their preferences and the complexity of the source audio.
The newest release of Deckadance 1.5 also provides:

Native support for the last generation of midi controllers (Vestax VCI-300, DJ-Tech Kontrol One, Stanton SCS-3D, Hercules DJ Control Steel, EKS Otus, Omnitronic MMC-1, DJ-Tech DJM-202)
Improved seek waveform that shows the start and cue points
OpenGL render engine for Windows
Unicode support for playlist/browser items
Beatgrid move via mouse over the waveform
Improved DVS engine when elastique time-stretching is disabled, etc.
Option to switch between the old and new sound engine by the improved interface of the setup panel
Fully compatible with Open Labs DBeat portable DJ instruments
"Deckadance 1.5 is a powerful combination from all features that users already know, along with many improved options. I believe this new version will cover the requirements of even the most demanding DJ's all over the world and will help them to show their best" commented DJ L.S.D (Luis Serrano), Chief developer Deckadance and leader of Image-Line DJ technology development team.
Editions:
Deckadance 1.5 is available in two retail editions: Deckadance Club Edition (with full functionality) and Deckadance House Edition that excludes the time-coded vinyl/CD transport control functions. For hardware manufacturers that would like to bundle Deckadance with their DJ products there is a custom LE Edition (contact Image-Line for more details).
Price and availability:
Version 1.5 of Deckadance could be purchased on-line with a special 20% discount applied till 20th of June, 2009. After this promotional period the product will be offered on a regular price of 179 USD (Club Edition) and 99 USD (House Edition).
A demo version of Deckadance 1.5 is also available for free download at Image Line's Download Section
About Deckadance:
Deckadance is a DJ mixing software, officially released in May 2007. It is a fully featured application designed for creative DJ performance. Deckadance can be controlled using most existing MIDI controllers and time-coded vinyl and CD systems). The software works as a standalone program or as a VSTi plugin inside any VSTi compatible host. Deckadance can itself host any VST-compliant softsynth or effect for unlimited creativity and expandability.
Check http://www.deckadance.com for more information and features details.
About Image Line Software:
Established in 1994, Image Line Software provides high quality music applications to the computer-based music community and is well known for its leading digital audio workstation FL Studio (formerly FruityLoops), high quality synthesizers including Sytrus, PoiZone,Toxic Biohazard, Morphine, Ogun and Sawer, a mix of innovative Effect plugins like Maximus and Hardcore and range of sample libraries used in their multi-sampler plugins DirectWave and Soundfont Player. In May 2007 Image Line Software released its acclaimed DJ mixing software application Deckadance. In addition to its audio software, Image Line Software develops and distributes the web site building application, EZGenerator.
For more information, please contact:
Asya Georgieva, PR Manager
Image Line Software
E-mail: pr(at)image-line.com
Press Page - Image Line Software
###