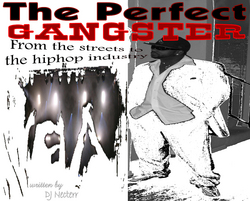 "The feedback that is coming back to us is incredible. "The Perfect Gangster" could be the next Karrine Steffan's "Confessions of a Video Vixen." - Tiffany Durant of Poinsettia Publications
Simpsonville, SC (PRWEB) September 14, 2010
DJ Necterr (Young Jeezy's official CTE DJ) will be releasing his autobiography, "The Perfect Gangster", on November 1, 2010. DJ Necterr is making his voice heard and it will resonate throughout the hip hop industry as he gives a full explanation and offers proof that Lil' Wayne and his camp are snitches. DJ Necterr will be releasing his biography via Poinsettia Publications on November 1, 2010.

Publisher: Poinsettia Pubs (November 1, 2010)
Language: English
ISBN-10: 0615394477
ISBN-13: 978-0615394473
LCCN: 2010936683
*$17.99 US
The streets and the music industry have created the perfect gangster with Necterr. Involved with the hip hop industries greatest, Necterr has worked for Jay-Z, had interactions with Lil Wayne, and toured with Dip Set.The Perfect Gangster is DJ Necterr's life story.
DJ Necterr is one of the West Coast's up and coming musicians that has experienced the hard knock life that often accompanies those who become involved in the hip hop industry. Necterr tours several times throughout the week as a promoter of his music as well as the music of others. This story is a story based on his life and allows the reader to take an inside look behind the scenes of the hip hop industry. Learn the secrets and the inner workings of the hip hop industry including some of your favorite rappers. Learn who's soft and pretends to be hard. Learn what happens to be your favorite rapper's drug of choice. Learn about your favorite rapper's sex life.
Read a featured interview of DJ Necterr at : http://www.dirtysouthradioonline.com/
This book allows outsiders to become insiders to the hip hop industry and to learn more about how DJ Necterr made his transition from the streets to the hip hop industry. Although the streets almost took him down, he has now overcome the streets. With one of his latest performances being in Hollywood at the Pre-VMA party with Gucci Mane and Waka Flocka Flame, it is evident that there is no party unless it's a DJ Necterr party.
Snitching may have saved Lil' Wayne from prison in regards to his experience with Necterr; although he wound up in prison at a later time due to other matters. How many other times have Lil' Wayne snitched? Visit http://www.theperfectgangster.com to read excerpts from the book and to pre-order today.
Contact DJ Necterr:
###