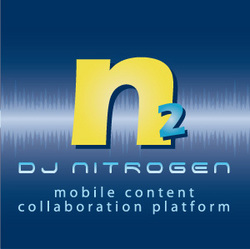 We are excited to be launching this version of the Ringtone Lab exclusively for the iPhone. iPhone users will no longer be limited to buying ringtones through iTunes, and our recipe-sharing technology means they can legally share their iPhone ringtones with any DJ Nitrogen user, even users of our private-label non-iPhone products
San Francisco, CA (PRWEB) May 7, 2008
DJ Nitrogen announces official launch of its new Ringtone Lab for the iPhone, specifically designed to meet the ringtone needs of iPhone users. The Ringtone Lab is one of the most advanced ringtone editors available and is the only product that lets users legally share iPhone ringtones with other users. Ringtones easily sync to the iPhone via iTunes, with no hacks or modifications required. Powered by DJ Nitrogen's patent-pending mobile content collaboration platform, this new Ringtone Lab works with any iPhone or 3G iPhone in any country and with any recent version of iTunes.
As with all DJ Nitrogen products, the Ringtone Lab for the iPhone lets the user make ringtones and save the "ringtone recipes" for any MP3 songs on the user's computer. The ringtone recipe is the data that defines the ringtone - start, stop, fade, etc. A user can browse, share and build upon ringtone recipes created by other members of the DJ Nitrogen community, but only for songs that the user already owns - thus respecting artists' copyrights. Users never share actual audio files, only the ringtone recipes. The ability to share ringtone recipes gives users access to a wide and growing library of ringtones for the music they love, with multiple ringtone recipes available for the most popular songs. And with the Easy-to-Expert editor, novices and audiophiles alike can have cool iPhone ringtones.
During the launch, the Ringtone Lab will be priced at only $9.99 - providing unlimited iPhone ringtones for the price of one iTunes album.
"We are excited to be launching this version of the Ringtone Lab exclusively for the iPhone. iPhone users will no longer be limited to buying ringtones through iTunes, and our recipe-sharing technology means they can legally share their iPhone ringtones with any DJ Nitrogen user, even users of our private-label non-iPhone products," says Chris Sindoni, DJ Nitrogen CEO.
Like DJ Nitrogen's flagship Ringtone Lab, this new Ringtone Lab for the iPhone can be distributed by affiliate partners and sites under the "Powered by DJ Nitrogen" program.
About DJ Nitrogen:
San Francisco based DJ Nitrogen's mobile content collaboration platform is an industry-first legal way for consumers to share the copyrighted media they send to their mobile phones. The company has several patents pending for the technology that powers its platform, including the "recipe sharing" technology. The Ringtone Lab and its private label counterparts are the first products to launch from the platform. CEO Sindoni and the development team are veterans of large consumer Internet brands and start-ups. Visit http://www.djnitrogen.com for more information and to download a Ringtone Lab product.
Media and distribution partner inquiries, contact:
Bill Hensley
VP Marketing
DJ Nitrogen
415.869.8859 x716
bill.hensley @ djnitrogen.com
###