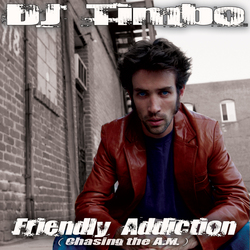 Friendly Addiction: Chasing the A.M.
Burbank, CA (PRWEB) October 5, 2009
Los Angeles -- Tim Scarne is preaching to no one, but he is putting his money where his mouth is and walking the talk. Scarne, whose stage name is DJ Timbo, is dedicating his latest single, "Friendly Addiction: Chasing the A.M." in memory of his recently deceased peer Adam Goldstein, better known as DJ A.M.
Goldstein was found dead earlier this summer from a drug overdose.
Fifty percent of the singles sales will go towards the National Multiple Sclerosis Society in Adam's name, and Scarne will hop on the sobriety wagon for 36 weeks as a gesture of respect to the 36 year old Adam. The song is an abstract reflection of his experiences both as a recovering addict and someone who lives in the limelight.
Scarne's two other singles, "GoGo Girl" and "I'm a F**king Celebrity" are satirical takes on Hollywood life and the absurdity of fame. Both were top 40 hits with "Girl" climbing as high as #10 on Billboard's Dance Charts. "Friendly Addiction" takes a more serious tone, with pulsing beats and a subtext through abstract lyrics not typically heard in pop music.
"First Michael Jackson, then DJ A.M. It was like a one two punch. Adam was someone that I always looked up to as the barometer to measure my success as a DJ," says Scarne. "He was on top of the world. The fact that we lost him so young just seems like such a slight to those of us who respected his talent. And to drugs, that's even worse."
Scarne is fully aware that suggesting his audience, many of them 24-hour party people, follow his lead may be risky business. Besides, as Scarne used marijuana and experimented with LSD and Ecstasy until his family intervened, he feels that would be calling the pot kettle black.
"I was a teenager still living with my parents at the time," he recalls. "My mom gave me a choice: I could clean up my act or I was out on the streets!"
It was tough love that sent Scarne into the world of private party DJ'ing where drug use was simply not acceptable if he were to maintain a career. He went onto become one of the most sought out entertainers in Los Angeles and soon nationwide. If you were planning a Bar-Mitzvah, chances are you knew who DJ Timbo was.
Scarne first started paying attention to DJ A.M.'s career around 2002, when he noticed that he was the DJ for one of Steven Spielberg's kids Bar-Mitzvah.
"I thought he was the coolest," says Scarne. "Nobody will ever know what could have saved Adam, but it's terribly ironic that he was asked to be the spokesperson for an MTV show about interventions."
"Friendly Addiction: Chasing the A.M." is now available for download on iTunes.
Link to Friendly Addiction on iTunes
###