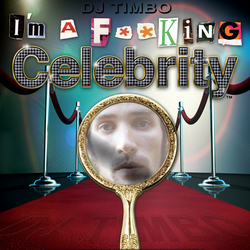 I'm A F**king Celebrity
Hollywood, CA (PRWEB) April 17, 2009
Hot on the heels of the success of his hit tracks "Go Go Girl" and "The Olsen Twins Song", celebrity sensation DJ Timbo is back with a dynamic new effort that spotlights his incredible talent as a producer and recording artist. "I'm A F**king Celebrity" was originally due out in May, but due to the overwhelming response from media and fans, the single was bumped up to an earlier release date and is available now on iTunes.
"Celebrity" was inspired by society's latest obsession with celebrity culture. Similar to Eminem's new single "We Made You," "Celebrity" is a commentary of how everyone seems to possess a feeling of self-importance and is clamoring for their 15 minutes of fame. "While we obsess over the obscene we desire, we cannot see our future. The illusion of fame is made as we are stalking ourselves!" Timbo says. The song has been getting heavy rotation in clubs and has burning up the internet being hailed as the "it track of the summer." In fact, the overpowering response in favor of the song forced Facebook to temporarily disable Timbo's account claiming it was an "independent security" issue.
Even though Timbo's music pokes fun at being a celebrity, he's no stranger to the culture. He was recently spotted by US Magazine DJing for Reese Witherspoon's 33rd birthday party. He has been seen spinning at A-List celebrity events and most recently appearing in the Funny or Die video "Zac Efron's Pool Party" with Queen Latifah, Nicole Richie, Joel Madden and Carmen Electra among others.
Hailed by Billboard as an "Unsigned Artist to Watch" for 2009, DJ Timbo has quickly positioned himself as Hollywood's hottest DJ. His first single, "Go Go Girl," hit No. 10 on Billboard's Hot Dance Club Play chart and became the dance anthem of the summer. His follow up single "The Olsen Twins Song" generated a lot of buzz as the video became a huge internet sensation and depicted an animated version of a wild night out with Timbo and the Olsen twins.
For more information and to hear "I'm A F**king Celebrity" in its entirety, please visit:
http://www.djtimbo.com
http://www.youtube.com/djtimbo
The video for "The Olsen Twins Song" can be viewed at:
http://www.youtube.com/watch?v=hKW_bD0525k
To view behind-the-scenes footage of "Zac Efron's Pool Party" from FunnyOrDie.com, go to:
http://www.youtube.com/watch?v=gsfWm0R5w4A
Contact:
Jessica Cohen of JCPR
(818) 508-0929
###