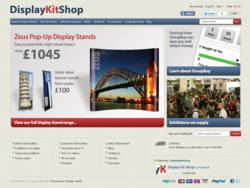 Think Groupon for the exhibition equipment industry, and you're halfway right.
Bristol, UK (PRWEB UK) 30 June 2011
Display Kit Shop officially launched their new ecommerce website today for the purchasing of exhibition display stands & accessories.
Display Kit Shop aims to simplify the process of purchasing exhibition equipment. According to Ben Townsend Digital Marketing Executive at DKS.
"It's important for customers to not only find what they need for an exhibition or event but at the right price. There are literally hundreds of different suppliers on the web and we needed to stand out." Says Ben.
Display Kit Shop features a large range of exhibition equipment from Pop Up Display Stands, Banner Display Stands, Literature Display Stands and more. Although the site is a departure from the norm for Clip Ltd, they felt it necessary to launch this June.
Ben goes on to say "Users can simplify the login process by using their Facebook accounts, as well as earning discounts via Facebook just from sharing with friends."
As an early adopter of social media in the exhibition sales world, Display Kit Shop has leveraged it with some insightful ways for customers to purchase goods.
Other highlights include a Group Buying function which effectively allows customers to purchase exhibition stand equipment in bulk.
"Think Groupon for the exhibition equipment industry, and you're halfway right" says Ben.
Ben goes on to state - "Group Buys allow potential customers to view a range of deals that last over 5 days, the deals offer money off of our range of display stands. It's incredibly simple to use and a great way for customers to save money. Purchasing goods from us this way, adds an element of excitement to the experience."
Those interested in learning more can view the how to purchase Exhibition Display Stands via Group buy here.
Display Kit shop the UK's Premier Exhibition Stand Supplier.
###