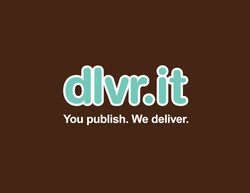 Bob not only brings seasoned leadership to the company, but a deep understanding of our clients' needs.
San Francisco, CA (PRWEB) September 7, 2010
Dlvr.it, a Pheedo company, announced today it has named Bob Sacco, an industry veteran, as Chief Revenue Officer. Sacco joins Dlvr.it with a broad digital and sales background. Sacco was most recently a founder of Travel Ad Network, one of Inc. Magazine's "Inc. 500" Fastest-growing companies in America in 2009. In this newly created position, Sacco will be responsible for guiding revenue strategies and will play a key role in developing breakthrough digital experiences that engage consumers and drive growth for Dlvr.it's Fortune 1000 clients.
Prior to Travel Ad Network, Sacco served as Director of Sales at the San Francisco Chronicle's SFGate.com (acquired by Hearst Corp. in 2000). Earlier, as the head of sales, he helped lead CyberGold.com, Inc. NASDAQ IPO (now a part of United Airlines). CyberGold created the first micropayment economy.
Sacco is a 1985 graduate of the UNIVERSITY OF CALIFORNIA, Santa Barbara where he was President of UCSB Ad Club award winning National Student Advertising Competition as well as a member of UCSB Track & Field team - NCAA Division 1 Athletics and a participant in the 1984 Olympic Track & Field Training Camp at UCSB.
"During the course of his career, Bob has demonstrated a winning attitude. He brings extensive experience in digital media and sales to Dlvr.it," said Bill Flitter, CEO of Dlvr.it. "Bob not only brings seasoned leadership to the company, but a deep understanding of our clients' needs and the creative energy to help us grow."
"Dlvr.it's first-mover advantage as the first Social Media Advertising solution is resonating with top brands and is poised for rapid growth. This combined with the company's already successful RSS-Feed product Pheedo, makes for an ideal situation."
About Dlvr.it
Dlvr.it is a powerful tool that allows bloggers, publishers and brands to manage, measure and grow their content strategy. Our campaign focused social media programs place your brand in the center of the conversation then extends the most engaging content to an exclusive opt-in relevant audience. Dlvr.it is based in the San Francisco Bay Area and its list of clients include Groupon, Travelocity, WebMD, Atlantic Records, Twitter, Google News and more.
###