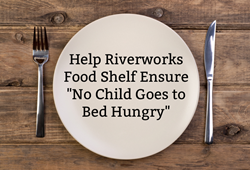 It was critical that we create something that was more than just a place to quietly slip in and receive a handout, Said Shore
Rockford, MN (PRWEB) September 03, 2015
"In suburban and rural neighborhoods throughout Eastern Wright County, RiverWorks' early research identified a widespread hunger need and an unwillingness "to ask for help" amongst groups of historically proud and private people. Yet, as the Great Recession worsened, more and more stories of silent suffering began to be brought to the attention of the founding member organizations." said RiverWorks Executive Director, Denise Kesanen.
"As we began to ask people for guidance, we heard again and again that there needed to be a dignified way for people to approach the organization and that the place would not make them feel embarrassed to mention that their families were hungry." "It was critical that we create something that was more than just a place to quietly slip in and receive a handout." "We learned and pre-determined that it would function more so like a local grocery store where there are competent, compassionate staff members that treat you with kindness and respect."
"This vision gave birth to what has become "an organization that is part of the heart of this community". "We are now partnered with many other excellent organizations like Riverwood Covenant Church, Our Father's Lutheran Church, Love Inc. Heartland, Bankwest/Rockford, Wright Hennepin Electric, Initiative Foundation, Rockford Lions Club and many others throughout Wright County who were founded with similar missions. "The idea that we can now allow our many faithful donors an opportunity to spend nothing extra and still provide much needed funding to ensure that "No Child Goes To Bed Hungry™" courtesy of Dlyte.com is a dream come true", said Kesanen.
"Dlyte and its 300+ national brands are making three (3) campaign models available to RiverWorks that will both kick-start, ramp and sustain its funding efforts all at no additional cost than is currently being spent on food, clothing, and entertainment every month", said Dlyte, CEO, Barry Shore.
Dlyte's "For-Not-A-Penny-More™" campaign process allows a non-profit organization to leverage a proprietary, customizable fundraising toolset which includes: a Dlyte™ custom landing page, custom email blasts, a custom promotional video, a social media strategy and a socially-shared video player. This is designed to encourage consumers and corporation seeking to benefit causes to direct their discretionary spending through Dlyte's brand partners' gift cards, to donate a meaningful percentage of the card's face value to the non-profit organization", said Shore.
Dlyte creates a customized three-phase, 90-day campaign strategy. Phase One allows donors to raise immediate funds for their cause or nonprofit when donors download Dlyte's new iOS and Android App.
"Donors cash Dlyte Points quickly add up to a significant donation amount when all donors download our app at the beginning of a new campaign as a kick starter ", said Dlyte CRO, Maurice Gavin. "We have groups that are using just this segment of our offering to raise several million dollars as a standalone campaign strategy".
"In RiverWorks case we only need 2,000 donors who will shop via Dlyte's app on a recurring basis generating $10/month minimum to ensure that "No Child Goes To Bed Hungry" in Wright County. Wright County has approximately 124,000 residents which means if a mere 2% participated in the RiverWorks campaign the challenge would be met overnight". "We are also hoping to expand this opportunity to the remaining food shelves in Wright County as we would like to cultivate a 20% county participation rate which would not cost donors any additional discretionary funds no detract from any current charitable giving they current provide to the causes or nonprofits they are already committed to serving, said Gavin.
The Phase Two offering is the "Donation Double-back" which is a campaign that gives double-the-donated-amount-back in gift certificates from Restaurant.com. "When a donor gives $25, they receive $50 from Restaurant.com and the same is true for any size gift." "We had one individual donate $300 to a campaign and they were stunned to receive $600 in Restaurant.com gift certificates via within 5-minutes of their purchase", said Gavin.
The Phase Three campaign offering empowers donors to "Give-At-No-Cost" on an ongoing monthly basis "For-Not-A-Penny-More" when donors purchase branded gift cards at Dlyte.com and receive Dlyte Points valued at up-to-30% of their purchase. "These Dlyte Points can be donated to the nonprofit as their cash equivalent", said CEO Barry Shore. "As we perfect this model with RiverWorks, we will provide it free-of-charge to each of the 60,000 charitable food shelves in the US". "We are very excited about expanding RiverWorks' ability to purchase food stuffs at the current "$1-buys-$9-in-food" from Second Harvest Heartland to permanently reduce the number of children who go to bed hungry". "Imagine an America where there is not only an abundance of food, but a mechanism whereby every child goes to bed full and satisfied with high-quality, nutritious food in their stomachs; projects like this one are the reason I created Dlyte" says Shore.
"We are so honored to serve RiverWorks mission to ensure that "No Child Goes to Bed Hungry™", says Dlyte CEO Barry Shore. "We envision a national network of 1,000,000 socially motivated individuals (SMIs) who will utilize Dlyte.com to donate a minimum of $10 each month without costing themselves 'a-penny-more' than they were already planning to spend on food, clothing, entertainment and travel with our 300+, trusted national brands." "We believe that this campaign will now literally explode with the availability of our iOS and Android apps as they allow donors to search for opportunities with our national and local brands in real time to continuously serve our mission at no additional cost." "Our goal is to become a fundraising organization's most consistent, perennial monthly source of donation revenue because through Dlyte™, every discretionary purchase made through our national and local brand partners creates added revenue for both the brand and the benefited charitable organization" said Shore.
Dlyte™'s trusted brands include, but are not limited to:1-800 FLOWERS.COM, INC., AMAZON.COM, APPLEBEE'S,INTERNATIONAL,INC., ALBERTSON'S, AMERICAN AIRLINES, BARNES&NOBLE, INC., BASSPROSHOPS, BED, BATH & BEYOND, BROOKSTONE, BUBBA GUMP SHRIMP CO., CABELA'S INCORPORATED, CARIBOU COFFEE, CHART HOUSE RESTAURANT, CHAMPS SPORTS, CHILI'S, CRUTCHFIELD, CVS PHARMACY, DOMINO'S PIZZA, FOOT LOCKER RETAIL,INC., GANDER MOUNTAIN SPORTS, GAMESTOP, GAP, GILT GROUPE, GROUPON,INC., GOLFSMITH,INC., HOMEDEPOT, ITUNES, JCPENNEY COMPANY, INC., KMART, LLBEAN, MARSHALLS, MCCORMICK & SCHMICK'S SEAFOOD & STEAKS, MORTON'S STEAKHOUSE, OLDNAVY, OMAHASTEAKS, OVERSTOCK.COM, INC., OVERTON'S, PANERA BREAD INC., PAPAJOHN'S, QVC, RAINFOREST CAFÉ, RED ROBIN GOURMET, BURGERS, INC., REGAL CINEMAS, STAPLES, INC., SEPHORA USA, INC., SPORTS AUTHORITY, STARBUCKS, TEXAS ROADHOUSE, TGI FRIDAYS, THE GAP, TOM THUMB, TJMAXX, WALMART, XBOX. Dlyte™ brand partners are continuously being added to further expand consumer options and fundraising efforts.
###
Dlyte, Inc.
Maurice Gavin, CRO
Maurice (at) dlyte.com
http://Dlyte.com
9301 Wilshire Blvd.
Suite 613,
Beverly HIlls, CA 90210
763-515-0497
Patrick Tuttle
VidzMedia (dot) net
443-807-8383
vidzmediainfo at Gmail dot com