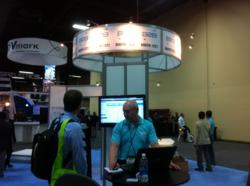 B2Bdatapartners The World's largest B2B social database
Las Vegas, NV (PRWEB) October 16, 2012
DMA2012 kicked off on October 13th, 2012 at Mandalay Bay, Las Vegas, with an inspiring line-up of key thought leaders from world's leading companies like Chris Anderson, editor-in-chief at Wired Magazine, David Fischer from Facebook, 'Celebrity CMO' Jeffrey Hayzlett, Brian Fetherstonhaugh, OgilvyOne etc. B2Bdatapartners is exhibiting at booth # 221 and the conference will continue till October 18th, 2012. .
B2Bdatapartners is rolling out customised target database development, innovative PhotoMail campaign solutions, company profiling and Global Executive data licensing solutions this year. Visitors will be able to view live demonstrations of customised database solutions and hear about ways current partners and customers have successfully implemented B2Bdatapartners' technology.
B2Bdatapartners is unveiling the Path Breaking Direct Response enhancement solution "PhotoMail" which is resulting in over 600% improvement in Direct mail response rates. "PhotoMail campaigns now take direct mail and email response to a whole new level" said Sujith Kumar, VP of Sales Strategy & Alliances
"We encourage marketers, partners, and resellers to visit our booth #221 at DMA2012. B2Bdatapartners global team will share real-time end to end B2B marketing solutions and Big Data strategies" said Tom Griffin, VP of Sales at B2Bdatapartners. He emphasized on the company's focus to provide tailor-made data solutions, data cleansing, and online B2B data management platforms like Infocheckpoint to help SMBs and large organizations grow rapidly.
Full service digital marketing solutions including 'social media & email appending' , 'data management', 'technology data appending' and 'global corporate profiles' will enhance customer data growth multi fold. "Very few firms have the scale like us having thousands of employees to help clients with entire range of Digital marketing solutions and Appending social, email information to get connected real fast" said Praveen Rajagopal, VP of Business Development.
During the next four days at DMA2012, B2Bdatapartners will empower marketers with insights on better ways to manage and take control over their 'Big Data'. Meet B2Bdatapartners team at booth # 221 for more details and demo.
Get more details online @ B2Bdatapartners or visit booth #221 at DMA2012.
About B2Bdatapartners :-
B2Bdatapartners is a Growth Enablement Partner for Clients across 83 countries helping extend reach to over 36 million top global executives across the world. B2Bdatapartners has transformed the way businesses work with cutting-edge data management technology, exhaustive data reach and digital marketing solutions. The Company is specialized in offering customized target database solutions based on the clients' requirements and business scope.
B2Bdatapartners offers services that help clients with their complete business growth cycle. This includes sales, marketing, nurturing and customer service. For a business to work smoothly, all the communication has to work hand in hand. This is what B2Bdatapartners does to help companies grow globally. With its path breaking innovative digital marketing services and extended data reach, the Company is the only one of its kind that bets on getting paid only after helping clients grow their business like a 'Real Marketing Partner'.