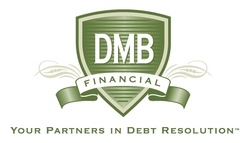 "We joined the DMB program with a total debt load of $95,000. Today, we are 100% debt free..."
Beverly, MA (PRWEB) June 15, 2010
DMB Financial, the country's largest provider of success-fee based debt settlement, celebrated the milestone achievement of having settled over $250,000,000 in unsecured debt and credit card debt. This achievement marks a first in the industry for companies that receive the majority of their service fees after successfully negotiating debt for their clients.
"We are thrilled to have achieved a milestone so few companies in our industry have reached. More importantly, we're proud of the more than $135 million we've saved our clients since we started back in 2003," boasts Daniel Kwiatek, chief operating officer, DMB Financial, LLC. "This achievement is the realization of a goal we set when we took on our first client - help our clients become debt free."
Since its founding in November 2003, DMB has aligned the success of the company with the needs of its clients. Simply put, DMB gets paid when its clients save money. By having a shared goal with its clients, DMB enrolls each client into a customized program that is optimized to get them out of debt quickly and effectively. This unique approach has helped more than 14,000 people settle over $250,000,000 of credit card debt while saving them an average of more than 55% ($137,000,000).
People like the Kellys of Philadelphia, PA.
"I used to be embarrassed to talk with anyone about my household finances because we were living paycheck to paycheck," states Mr. Kelly. "Today, I am extremely proud to tell anyone who will listen about our experience in the DMB program to gain control of our finances and eliminate our debt. We joined the DMB program with a total debt load of $95,000. Today, we are 100% debt free except for our mortgage."
"Our experience began with an initial call into DMB after having another bill paying session where we came up short in paying the monthly bills," added Mr. Kelly. "After speaking with DMB we wondered what the 'catch' was, however, we cautiously entered the program and set up a payment schedule that was good for my family. After approximately 3 months of being in the program we received our first debt settlement offer. DMB had an offer for 25% of the original debt. Wow!"
"I can remember how happy we were that day," boasts Mr. Kelly. "I had a smile from ear to ear and, for the first time in 15 years, I had a feeling of control over my money and a sense of 'everything is going to be okay.' With the use of a detailed budget and the discipline of putting away a monthly payment to ourselves (the payment that used to go to DMB) we now have a goal to have our mortgage paid off in 7 years. The whole plan is already set up in my spreadsheet."
Without debt settlement, most of people, like the Kellys, would have had to choose bankruptcy or consumer credit counseling. Bankruptcy is a devastating option for consumers and can have long-lasting effects. Had all of DMB's clients opted for credit counseling, they would have paid approximately $350 million (more than 3-times what they paid with DMB and debt settlement). This savings had a profound, positive impact on the quality of their lives and the ability to take control of their personal finances.
Mr. & Mrs. Kelly conclude, "This entire 18-month experience has revealed to us that the problem was never the debt but rather our spending habits and household communication around money. For our family, the DMB program was the catalyst that allowed us to totally transform our life from living with fear and anguish about finances into a life of peace and achievable financial goals for the future. We are truly grateful for the service that DMB has provided my family!"
"As one of the few companies offering performance-based debt settlement services, we've invested heavily in our client services and settlement teams," adds Kwiatek. "We pride ourselves on providing an extraordinary level of customer support and service and are thrilled to have helped thousands of people, like the Kellys, graduate from our program debt free and with a bright financial future."
About DMB Financial, LLC
With over 50 years of combined experience in the debt industry, the founders of DMB Financial are helping to redefine the dream of financial security for the many who are burdened with excessive debt. By providing proven debt settlement programs and services, DMB Financial offers consumers a means to avoid bankruptcy and resolve their unsecured debt. Additionally, DMB Financial offers our clients educational, self-help tools that include a seasonal newsletter along with prevailing on-line articles and beneficial consumer related links as a means to stay abreast of a constantly shifting financial landscape.
Since DMB Financial's inception in 2003, we have been assisting our nationwide clientele with their burdensome unsecured debt and have enrolled over 14,000 clients in our programs, settling over $250 million of debt for its clients. In fact, DMB's typical client has seen over 55% of their debt written off and is debt free in as little as 12-36 months*. Individual results may vary based upon a client's ability to save funds, the amount of debt, willingness of creditors to negotiate, and the successful completion of all program terms.
DMB Financial is a for-profit, private company and is not affiliated with the credit bureaus or the credit industry. As a result, our services are unbiased and independent, which allows us to better serve you, the consumer. It is at the core of our mission statement that DMB Financial strives to be the preferred financial services company, and is driven to improve the quality of life for our clients. For more information, visit http://www.dmbfinancial.com or call us at 866-810-3210.
*Individual results may vary based on ability to save funds, amount of debt, willingness of creditors to negotiate, and the successful completion of all program terms. Program does not assume or pay any debts, nor provide legal or tax advice. Prudence should always be taken by consumers when reviewing contracts and disclosure materials. DMB's services not available in all states.
###